This Is War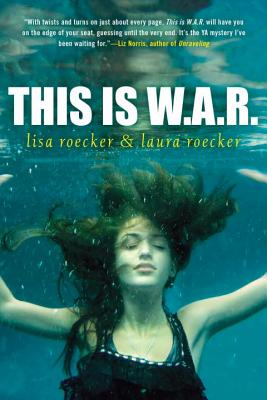 This Is War
Soho Teen, Hardcover, 9781616952617, 276pp.
Publication Date: July 2, 2013
* Individual store prices may vary.
Not Currently Available for Direct Purchase
or
Shop Local
Enter your zip code below to purchase from an indie close to you.
Description
This is not a story of forgiveness... 

The mystery of their best friend's murder drives four girls to destroy the Gregory family. Emily Thorne would be proud.

Everyone at Hawthorne Lake Country Club saw Willa Ames-Rowan climb into a boat with James Gregory, the Club's heir apparent.

And everyone at Hawthorne Lake Country Club watched him return. Alone.

They all know he killed her. But none of them will say a word. The Gregory family is very, very good at making problems go away.

Enter the W.A.R.—the war to avenge Willa Ames-Rowan. Four girls. Four very different motives for justice and revenge, and only one rule: destroy the Gregory family at any cost.
About the Author
LISA and LAURA ROECKER are sisters-turned-writing-partners with a passion for good books, pop culture and Bravo programming. Not necessarily in that order. Lisa has always been a phenomenal liar and Laura loves to write angsty poetry, so writing for young adults seemed like a natural fit. The sisters live in Cleveland, Ohio in separate residences. Their husbands wouldn't agree to a duplex. To learn more about The Liar Society series check outwww.theliarsociety.com

LISA and LAURA ROECKER are sisters-turned-writing-partners with a passion for good books, pop culture and Bravo programming. Not necessarily in that order. Lisa has always been a phenomenal liar and Laura loves to write angsty poetry, so writing for young adults seemed like a natural fit. The sisters live in Cleveland, Ohio in separate residences. Their husbands wouldn't agree to a duplex. To learn more about The Liar Society series check outwww.theliarsociety.com
Praise For This Is War…
Praise for This is WAR

-Teen Vogue Hottest YA Books Pick-

"With twists and turns on just about every page, This is W.A.R. will have you on the edge of your seat, guessing until the very end. It's the YA mystery I've been waiting for."
—Liz Norris, author of Unraveling

"[THIS IS WAR explores] important questions about money, power and privilege."
—Kirkus Reviews

"This is W.A.R. was an exciting read with perfect proportions of dark secrets and light humor.... Take a break from balmy beach romances and give this mystery a try!"
—TeenReads.com

"I was so engrossed I couldn't turn the pages fast enough."
—Luna's Little Library
 
"These two authors have created characters that rhyme. That fit together. These four girls are so different, yet, you could see them as best friends anytime. The action in this book drowned you in it, you get immersed in the story and you just don't want to let go."
—Insomnia of Books

"One of my favorite reads so far this year. THIS IS W.A.R. by Lisa and Laura Roecker will knock your socks off!"
—Elena Johnson, author of the Possession series

"This is W.A.R. sidestepped several clichés, both by flipping them and by embracing them, and I loved the way the story unfolded, slowly revealing more secrets than just what was going on with the Gregorys... I stand with Willa and all the other women like her. All the women—and men—who are victims of people rich enough to buy silence, people who manipulate the truth and poison justice." 
—Kirkus Book Report

"A fun mystery.... the spotlight shining on the lifestyle and problems of the rich and famous (or just the rich) makes for enjoyable reading. Is justice that different for the extremely wealthy? Read this novel and think about it."
—The Examiner

"The plot and pacing were spot on – keeping me turning the pages and racing through the novel in only two sittings. Definitely give this one a read!"
—Bookanista

"I adored this book. It was a great heart pounding mystery that had me hooked from the very first page."
—Rachel Reads

"This is W.A.R. is yet another fast-paced novel by Lisa and Laura Roecker shrouded in mystery and suspense... an addictive mystery full of lies, dirty money, and a truth just begging to get to the surface." 
—Our Thoughts Precisley 

"Murder? Vigilante justice? Innocence lost? Battles won? Destruction on the horizon? Yup, must read it."
—Literary Me

Praise for Lisa and Laura Roecker

"The authors create lively and memorable characters and keep the action moving."—Publishers Weekly

"A smartly paced and plotted first novel, full of twists, clues, and sleuthing. Add this to your go-to list of mysteries, and expect readers to clamor for a follow-up to this sister duo's first novel."—Booklist

"A book for mystery lovers everywhere. The Roecker sisters' debut will suck you in and leave readers hanging until the very end. Danger and thrills, romance and horror will keep you entertained. A great read for a rainy day."—RT Book Reviews

"The Liar Society is full of boarding school awesome, secret societies, and misunderstood hot teen boys. It takes a very unique plot for me to enjoy a contemporary YA and The Liar Society has unique coming out of the author's little pink brains."—Bookalicious