Epic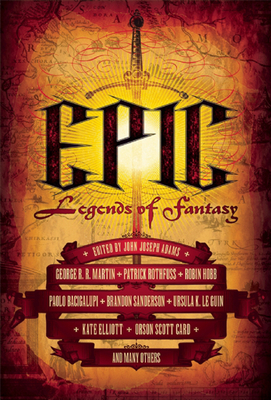 Epic
Legends of Fantasy
Tachyon Publications, Paperback, 9781616960841, 608pp.
Publication Date: October 5, 2012
* Individual store prices may vary.
Buy Now
or
Shop Local
Enter your zip code below to purchase from an indie close to you.
Description
There is a sickness in the land. Prophets tell of the fall of empires, the rise of champions. Great beasts stir in vaults beneath the hills, beneath the waves. Armies mass. Gods walk. The world will be torn asunder.
Epic fantasy is storytelling at its biggest and best. From the creation myths and quest sagas of ancient times to the mega-popular fantasy novels of today, these are the stories that express our greatest hopes and fears, that create worlds so rich we long to return to them again and again, and that inspire us with their timeless values of courage and friendship in the face of ultimate evil--tales that transport us to the most ancient realms and show us the most noble sacrifices, the most astonishing wonders.
Now acclaimed editor John Joseph Adams ("Wastelands," "The Living Dead") brings you seventeen tales by today's leading authors of epic fantasy, including George R. R. Martin (A Song of Ice and Fire), Ursula K. Le Guin (Earthsea), Robin Hobb (Realms of Elderlings), Kate Elliott (Crown of Stars), Tad Williams (Of Memory, Sorrow & Thorn), Patrick Rothfuss (The Kingkiller Chronicle), and more.
Return again to lands you've loved or visit magical new worlds. Victory against the coming darkness is never certain, but one thing's for sure--your adventure will be epic.
About the Author
John Joseph Adams is the series editor of"Best American Science Fiction & Fantasy". He is also the bestselling editor of many other anthologies, such as"The Mad Scientist s Guide to World Domination", " Armored", " Brave New Worlds", " Wastelands", and "The Living Dead".Recent books include The Apocalypse Triptych (consisting of "The End is Nigh", " The End is Now", and" The End Has Come"), and "Press Start to Play". John is a two-time winner of the Hugo Award and is a six-time World Fantasy Award finalist. John is also the editor and publisher of the digital magazines "Lightspeed "and "Nightmare", and is a producer for WIRED s"The Geek s Guide to the Galaxy"podcast.

George R.R. Martin has been a full-time writer for over 25 years. He is the author of the acclaimed, internationally bestselling fantasy series "A Song of Ice and Fire", which is the basis of HBO's popular "Game of Thrones "television series. Martin has won multiple science fiction awards, including 4 Hugos, 2 Nebulas, the Bram Stoker, the Locus Award, the World Fantasy Award, the Daedelus, the Balrog, and the Daikon (Japanese Hugo).

Patrick Rothfuss vit dans le Wisconsin, ou il enseigne a l'universite. A ses heures perdues, il tient une chronique satirique, pratique la desobeissance civile et tate de l'alchimie. Il aime les mots, rit souvent et refuse de danser.