H.N.I.C.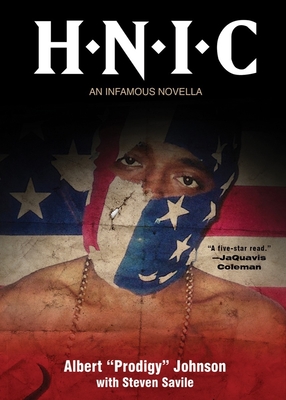 H.N.I.C.
Akashic Books, Paperback, 9781617752322, 126pp.
Publication Date: July 9, 2013
* Individual store prices may vary.
Buy at Local Store
Enter your zip code below to purchase from an indie close to you.
or
Buy Here
Description
"A gritty, fast-paced tale of revenge...Tight, terse prose harkens back to pulp fiction of the 1950s...The work is a breath of fresh air from lengthy, trying-too-hard-to-shock street lit and is an excellent choice for all metropolitan collections."
--"Library Journal" (starred review, Pick of the Month)
"The urban setting is unnamed but familiar in this brief, bloody tale of wasted lives lived short and hard."
--"Publishers Weekly"
"Simultaneously a fast-paced crime drama and an engrossing, unsentimental moral tale, "H.N.I.C." peers into the dark heart that underpins the codes of loyalty and friendship, betrayal and vengeance."
--"Brooklyn Daily Eagle"
"In a genre that too often places incorrect ebonics in the mouths of black characters and fails to cross the empathy gap to get into their heads, Savile and Prodigy arrive at a seamless voice that is a refreshing take on crime fiction tropes...if tone and texture are what you're looking for in your hardcore literature..."H.N.I.C." delivers the goods."
--"Okayplayer"
""H.N.I.C." is written by Prodigy himself and shows the extent to which good rappers can make good storytellers."
--Brooklyn Based
"Ultimately, "H.N.I.C." deals on all the right levels and is completely satisfying."
--Blackout Book Review
"If you don't have this novella in your library collection already, please be on the lookout for this 2013 release, "H.N.I.C.," penned by Hip Hop artist Prodigy of the group, Mobb Deep."
--StreetLiterature.com
"The strength of this novella, in addition to its straightforward prose and rapid pacing, rests on the universal theme at its center: loyalty. Loyalty and the bullshit our friends put us through...Like any good work of crime, "H.N.I.C." is grounded in such common experiences and, like any good work of crime, it speaks to all of us, despite the fact that very few of us can bypass an alarm system through some computer trickery."
--Nerds of a Feather, Flock Together
"It tells the...urban tale of deceit, greed and questioned loyalty with just enough drama to keep you turning the pages."
--Literary Jewels
"A brutal and quick read...custom-made for the big screen."
--Charles Tatum's Review Archive
"Prodigy, from the legendary hip-hop group Mobb Deep, launches Akashic's new Infamous Books imprint with a story of loyalty, vengeance, and greed."
Pappy tries to break out of the game before the head of his crew, Black, gets them all killed. Against his better judgment Pappy agrees to do one last job, but only because it's the price of his freedom. He knows his "brother" Black would rather see him dead than let him walk away. Yet he still agrees to do the job because Black isn't the only one who can't be trusted.
Further developing the stark realism and uncompromising streetwise narratives of his lyrics, "H.N.I.C." cements Prodigy's position as one of the foremost chroniclers of contemporary urban life. Simultaneously a fast-paced crime drama and an engrossing, unsentimental moral tale, "H.N.I.C." peers into the dark heart that underpins the codes of loyalty and friendship, betrayal and vengeance.
With "H.N.I.C.," Prodigy inaugurates Infamous Books, a revolutionary partnership that pairs the Infamous Records brand with Brooklyn-based independent publisher Akashic Books. Infamous Books' mission is to connect readers worldwide to crime fiction and street lit authors both familiar and new.

About the Author
Albert ?Prodigy? Johnson is one half of the platinum selling hip-hop duo, Mobb Deep. Prodigy is widely considered one of the most skilled lyricists in the history of hard-core East Coast rap. Visit him at MyInfamousLife.com.

Steven Saville has twice been nominated for the British Fantasy Society Award for best short story and best original fiction collection, and was runner up in 2000 for his editorial work on "Redbrick Eden, Scaremongers 2", which raised funds for the homeless charity SHELTER in the UK. He lives in Stockholm, Sweden, where he also teaches.
Saturday, Aug 30, 2014
Prodigy, one half of the hip-hop duo Mobb Deep, is the curator of Infamous Books, an imprint of Brooklyn-based independent publisher Akashic Books. His debut novel H.N.I.C. was published in 2013. More at NPR.org