Becoming China's Bitch and Nine More Catastrophes We Must Avoid Right Now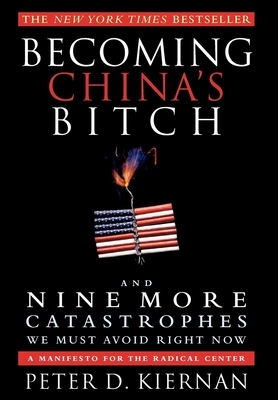 Becoming China's Bitch and Nine More Catastrophes We Must Avoid Right Now
A Manifesto for the Radical Center
Turner, Hardcover, 9781618580054, 434pp.
Publication Date: February 28, 2012
* Individual store prices may vary.
Buy at Local Store
Enter your zip code below to purchase from an indie close to you.
or
Buy Here
Description
When it comes to solving our country's problems, we have become utterly paralyzed: bipartisanship has lulled us into a deadlock, preventing us from taking action. Yet we can no longer ignore the inevitable catastrophes or hand them off to Washington to fix—they must be addressed now, or we will suffer the long-term consequences.
In Becoming China's Bitch, Peter Kiernan presents an unflinching manifesto in which he explores five factors that have sustained our national paralysis, then uncovers the ten challenges that pose the greatest threat to the future of America. Presented from a fresh yet informative Centrist perspective, these ten impending catastrophes include our semiconscious dependency on China, our lack of a centrally coordinated intelligence effort, our downward-spiraling health-care system, and the continually expanding problem of illegal immigration. In a logical, personal, and persuasive voice, Kiernan offers radical yet common-sense solutions to these challenges—solutions that every American must acknowledge and act upon before it's too late.
With provocative insight and analytical depth, Becoming China's Bitch is the answer to securing our country's immediate future and restoring our national soul.
 
About the Author
Award-winning author Peter D. Kiernan is an entrepreneur, philanthropist, and adviser to businesses, nonprofits, and government organizations. A past chair of the Christopher and Dana Reeve Foundation, he has served on the boards of numerous hospitals, colleges, and charter school initiatives. Peter lives in New England.