If Only You People Could Follow Directions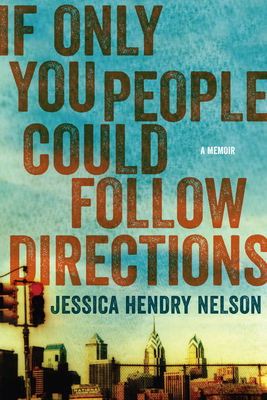 If Only You People Could Follow Directions
A Memoir
Counterpoint LLC, Hardcover, 9781619022331, 244pp.
Publication Date: December 31, 2013
* Individual store prices may vary.
Buy at Local Store
Enter your zip code below to purchase from an indie close to you.
or
Buy Here
Description
If Only You People Could Follow Directions is a spellbinding debut by Jessica Hendry Nelson. In linked autobiographical essays, Nelson has reimagined the memoir with her thoroughly original voice, fearless writing, and hypnotic storytelling. At its center, the book is the story of three people: Nelson's mother Susan, her brother Eric, and Jessica herself. These three characters are deeply bound to one another, not just by the usual ties of blood and family, but also by a mother's drive to keep her children safe in the midst of chaos. The book begins with Nelson's childhood in the suburbs of Philadelphia and chronicles her father's addiction and death, her brother's battle with drugs and mental illness, her own efforts to find and maintain stability, and her mother's exquisite power, grief, and self-destruction in the face of such a complicated family dynamic. Each chapter in the book contends with a different relationship—friends, lovers, and strangers are all play—but at its heart the book is about family, the ties that bind and enrich and betray us, and how one young woman sought to survive and rise above her surroundings.
Praise For If Only You People Could Follow Directions…
"A quirkily mesmerizing debut memoir about a dysfunctional family wracked by alcoholism and drug addiction. Bittersweet and wryly funny." —O Magazine


"Hendry Nelson mostly uses very specific details and images to advance her story rather than just embroider the narrative with pretty language — although make no mistake; she is a skillful writer...Gradual revelation and occasional surprise make these essays fresh and startling. Nelson bravely forges her own voice in these complex essays...and in the process stakes out a place as an admirable practitioner of contemporary memoir." —Boston Globe


"This series of autobiographical essays from debut author Jessica Hendry Nelson hopscotches through time to offer a kaleidoscopic look at the way abuse resonates down through generations like a bell. In language that often reads more like poetry than prose, Nelson details her father's alcoholism, her mother's attempts to hold the family together, and her brother's eventual descent into drugs and mental illness... For much of the book, Nelson can't seem to escape the orbit of her family's dysfunction, but by the end she is ensconced in Vermont with a boyfriend, attempting to forge a life of her own away from "the theater of my brother's addiction." Nelson presents this as both a betrayal and an achievement, and the way she writes is so unflinchingly honest it leaves you able to understand that perhaps both can be equally true at once." —Elle


"It takes a virtuoso writer to make another familial memoir of addiction seem as vital and compelling as this stunning debut does…Unforgettable." —Kirkus, Starred Review


"The author's family was stretched to its limits by addictions, mental illness, death, incarcerations and financial instability. Each episode in this carefully crafted series of essays illuminates another moment of inertia or determination in the shaky journey Nelson took toward independence and stability. The best essays unfold like scenes in an indie flick, with the bad motels and boardwalks so accurately rendered. Nelson presents clearly the frustrations of loving people who are just no good for you. The little girl who pictured her dad checking into jail as if he were checking into a hotel grew up to be a woman who could walk on all sorts of thin ice and survive to tell the stories about it. We're fortunate she chose to share the stories." —Library Journal, Starred Review


"Jessica Hendry Nelson knows the power of clean, sparse prose, and her keen eye for the small, most telling details of character show an insight into the human psyche well beyond her years. Her story is oftentimes a dark one, but Nelson holds strong, knowing that saving those we love may first begin, and end, with saving ourselves. A remarkable debut by a wonderfully talented writer." —James Brown, author of The Los Angeles Diaries


"Memory doesn't move in a straight line. It is chaotic, digressive, and imperfect. While most memoirs force life into the restrictions of straight lines, Nelson embraces the chaos by moving back and forth in time, free associating among memories, and organizing her life into a series of essays. What could be just another memoir of a family disintegrated by substance abuse becomes a vibrant and challenging exploration of abuse, obsession, coping, family, friendship, and self-discovery."- Josh Cook, Porter Square Books, Cambridge, MA


"This memoir in essays brings to mind Jo Ann Beard's The Boys of My Youth. It's a book for anyone who has ever been young and trying to find themselves - which is to say, it's a book for everyone. Nelson's punch-you-in-the-heart prose is incandescently beautiful.- Michele Filgate, Community Bookstore, Brooklyn, NY


"Writing well about addiction is a rare gift, and newcomer Jessica Hendry Nelson, in If Only You People Could Follow Directions: A Memoir, comes at the problem elliptically, in some cases deliberately pruned of strong emotion. This works in her favor, as she eschews over-the-top bravado for the facts of life. The book is, heartbreakingly, a book about family—about the power of substance abuse, self-destruction, grief, and remorse to tear away at every connection human beings share." —Dirk Hanson, Addiction Inbox


"A stunning debut. Nelson is a writer to watch, not just for her sure-footed prose and her adept storytelling ability, but also because she survived a family defined by addiction and psychological destruction. Nelson grew up as the daughter of an alcoholic father and a mother who varied between best friend and neglectful parent. Her brother Eric is also an addict and suffers from bipolar disorder. It is no surprise that she and many of her closest friends had plenty of exposure to drugs, alcohol, and destructive behaviors during her formative years. Despite her background and her childhood, Nelson graduated from the University of New Hampshire with a degree in English and earned an MFA in Writing from Sarah Lawrence College. Her survival is a story in and of itself, but it is her writing that is the true standout in this memoir." - Terry Louchheim Gilman, Mysterious Galaxy Bookstore, San Diego