I Am a Pole (and So Can You!)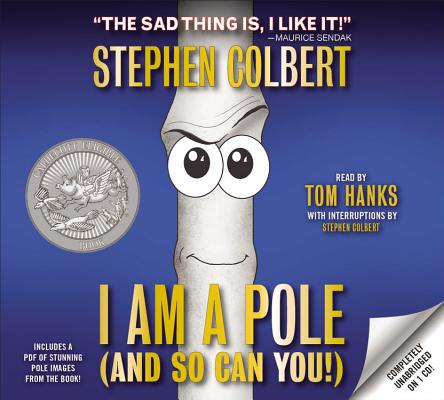 I Am a Pole (and So Can You!)
Hachette Audio, Compact Disc, 9781619695023, 1pp.
Publication Date: May 29, 2012
* Individual store prices may vary.
Buy at Local Store
Enter your zip code below to purchase from an indie close to you.
or
Buy Here
Description
"The sad thing is, I like it" - Maurice Sendak

"The perfect gift to give a child or grandchild for their high school or college graduation.
Also Father's Day.
Also, other times."

- Stephen Colbert
About the Author
Amy Sedaris, Paul Dinello, and STEPHEN COLBERT met at Chicago's Second City and have been collaborators ever since. They have developed two separate series for Comedy Central: "Exit 57" and "Strangers with Candy". In addition to TV work, Dinello and Colbert are successful screenwriters.

David Scott is one of twelve men to have walked on the moon. He was born at Randolph Air Force Base, Texas, educated at West Point, and received his pilot wings in 1955. He earned two graduate degrees at MIT and completed the Air Force Experimental Test Pilot School before being selected as an astronaut by NASA in 1963. He flew three space missions: first as pilot of Gemini 8 in 1966, then as command module pilot on Apollo 9 in 1969, and finally as commander of Apollo 15 in 1971. He was subsequently assigned to the joint USA/USSR Apollo-Soyuz Test Project, and from 1973 to 1977 worked as deputy director and director of the NASA Dryden Flight Research Center. He went on to found two private companies, applying his technological expertise in the arena of commercial space, and has also acted as technical adviser on the film Apollo 13 and Tom Hanks's award-winning series From the Earth to the Moon.
Alexi Leonov was born in Siberia in 1934 and graduated from the Chuguyev Higher Air Force School in the Ukraine in 1957, before serving as a fighter pilot in East Germany in 1959. He was among the first group of cosmonauts selected in 1960 and flew two space missions: first as pilot of Voskhod 2 in 1965 and then in 1975 as commander of Soyuz 19 during the Apollo-Soyuz Test Project. In 1966 he was appointed commander of the lunar training group and would have been the first Soviet cosmonaut on the moon. He became deputy director of the Gagarin Cosmonaut Center and was promoted to the rank of major general. He is currently vice president of Russia's Alpha Bank. Leonov is also an accomplished painter, having exhibited throughout the world.