Talk about a Dream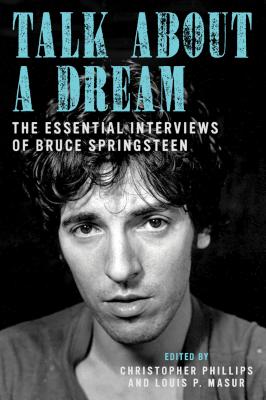 Talk about a Dream
The Essential Interviews of Bruce Springsteen
Bloomsbury Publishing PLC, Paperback, 9781620400722, 449pp.
Publication Date: August 20, 2013
* Individual store prices may vary.
Buy Now
or
Shop Local
Enter your zip code below to purchase from an indie close to you.
Description
Bruce Springsteen often prefers to let his music do the talking. His onstage stories and shaggy dog tales have long entertained his fans, but his songs and his guitar provide the most direct line to their hearts. Considering his prominence on the rock 'n' roll landscape, Springsteen has spent remarkably little of his 40-year recording career speaking to the press. But when he does decide to sit down and talk, the conversations tend to be momentous. Q&As with Bruce Springsteen reveal an artist with great insight and self-awareness, a student of music, an avid searcher, an astute observer of humanity from the boardwalk to America at large. Much has been written about the Boss, but few can be said to know the man as well as he knows himself, and the best of Springsteen's own words are collected here in "Talk About a Dream." Gathering more than 30 different interviews spanning from 1973 to 2013, this volume captures his remarkable personality-one that takes interviews as seriously as making music. These eye-opening conversations chart Springsteen's development as an artist, a thinker, and a public figure, shedding light on everything from the meaning of lyrics to his evolution from rebel rocker to global icon.
About the Author
Christopher Phillips is an educator, author, and pro-democracy activist. Visit him on the Web at www.christopherphillips.com.

Louis P. Masur is the William R. Kenan Jr. Professor in American Institutions and Values at Trinity College in Hartford, CT. He is the author of many books including "1831: Year of Eclipse; Autumn Glory: Baseball's First World Series; The Soiling of Old Glory: The Story of a Photograph that Shocked America"; and "Runaway Dream: Born to Run" and Bruce Springsteen's "American Vision". His most recent book, "The Civil War: A Concise History", will be published in 2012.
Praise For Talk about a Dream…
"Chris and Lou have compiled interviews with Bruce that span his entire recording career. In reading them put together in this way, I found it remarkable how it tells the story of a thoughtful and consistently driven artist. A must-read for all serious Bruceaholics." –Garry Tallent, E Street Band bassist and longtime fan
 "From the tentative launch of Greetings from Asbury Park in 1973 to the triumphant Wrecking Ball tour in 2013, Talk About a Dream describes the life of Bruce Springsteen in the inimitable words of the man who knows it best: Bruce Springsteen. In all his glory and bleakness; in his mythologizing and debunking; in his boasts and confessions, authors Phillips and Masur have Springsteen dead to rights." –Peter Ames Carlin, author of Bruce
 "Christopher Phillips and Louis P. Masur have assembled a remarkable collection of interviews. Insightful and entertaining and an absolute must for Springsteen fans." –June Skinner Sawyers, editor, Racing in the Street The Bruce Springsteen Reader
 "Talk About a Dream charts Springsteen's journey from 'sullen mumbler' to one of the more articulate rock stars, nay cultural commentators, today; and in a manner verging on the definitive." –Clinton Heylin, author of E Street Shuffle: The Glory Days of Bruce Springsteen and the E Street Band
 "No artist has ever been as candid, informative, and entertaining as Bruce is in this wonderful book, Talk About a Dream. As revealing as you could possibly hope. I highly recommend it." –Nils Lofgren, E Street Band guitarist
 "A fascinating addition to the growing shelf of Springsteen studies."–Kirkus Reviews "[An] amazing volume. A worthy addition to the Springsteen literary canon."–Booklist (starred review)