The Downfall of Money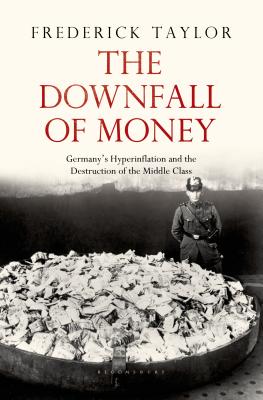 The Downfall of Money
Germany's Hyperinflation and the Destruction of the Middle Class
Bloomsbury Publishing PLC, Hardcover, 9781620402368, 416pp.
Publication Date: September 17, 2013
* Individual store prices may vary.
Buy at Local Store
Enter your zip code below to purchase from an indie close to you.
or
Buy Here
Description
A hundred years ago, many theorists believed just as they did at the beginning of our twenty-first century that the world had reached a state of economic perfection, a never before seen human interdependence that would lead to universal growth and prosperity. Then, as now, the German mark was one of the most trusted currencies in the world. Yet the early years of the Weimar Republic in Germany witnessed the most calamitous meltdown of a developed economy in modern times. "The Downfall of Money" will tell anew the dramatic story of the hyperinflation that saw the mark worth 4.2 to the dollar in 1914 plunge until it traded at over 4 "trillion "to 1 by the autumn of 1923.
The story of the Weimar Republic's financial crisis clearly resonates today, when the world is again anxious about what money is, what it means, and how we can judge if its value is true. It is a trajectory of events uncomfortably relevant for our own uncertain world.
Frederick Taylor one of the leading historians of Germany writing today explores the causes of the crisis and what the collapse meant to ordinary people and traces its connection to the dark decades that followed. Drawing on a wide range of sources and accessibly presenting vast amounts of research, The Downfall of Money is a timely and chilling exploration of a haunting episode in history.
About the Author
Frederick Taylor studied history and modern languages at Oxford University and Sussex University. A Volkswagen Studentship award enabled him to research and travel widely in both parts of divided Germany at the height of the Cold War. Taylor is the author of Dresden and has edited and translated a number of works from German, including The Goebbels Diaries, 1939-1941. He is married with three children and lives in Cornwall, England.
Praise For The Downfall of Money…
"Taylor (Dresden) adds to a solid body of work on 20th-century Germany with this chilling account of the human face of hyperinflation in the 1920s Weimar Republic." –Publishers Weekly "A well-organized, fast-moving political narrative…Taylor's history provides plenty of relevant lessons for today—and not only for Europe." –Kirkus Reviews "Excellent...By skillfully weaving together economic history with political narrative and drawing on sources from everyday life as well as the inner cabinet of diplomacy, Mr. Taylor tells the history of the Weimar inflation as the life-and-death struggle of the first German democracy...This is a dramatic story, well told." - Adam Tooze, The Wall Street Journal "The British historian Frederick Taylor has written so brilliantly and incisively about Adolf Hitler that it is no surprise that he has turned his attention to the German economic meltdown…Mr. Taylor's book, 'Exorcising Hitler,' proved the author's prowess at social and political historiography and a magnificent grasp of Germany as a whole. 'The Downfall of Money' demonstrates that superb attunement to Germany anew and also [Taylor's] mastery as an economic historian….Firmly and rightly grounded in its own time and place, 'The Downfall of Money' nonetheless resonates in our own." –Martin Rubin, The Washington Times