Floodpath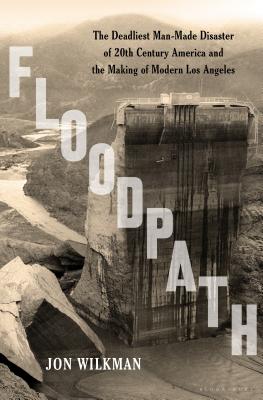 Floodpath
The Deadliest Man-Made Disaster of 20th-Century America and the Making of Modern Los Angeles
Bloomsbury Publishing PLC, Hardcover, 9781620409152, 336pp.
Publication Date: January 5, 2016
* Individual store prices may vary.
Buy at Local Store
Enter your zip code below to purchase from an indie close to you.
or
Buy Here
Description
Just before midnight on March 12, 1928, the St. Francis Dam, a twenty-story-high concrete structure just fifty miles north of Los Angeles, suddenly collapsed, releasing a devastating flood that roared fifty-four miles to the Pacific Ocean, destroying everything in its path. It was a horrific catastrophe, yet one which today is virtually forgotten.
With research gathered over more than two decades, award-winning writer and filmmaker Jon Wilkman revisits the deluge that claimed nearly five hundred lives. A key figure is William Mulholland, the self-taught engineer who created an unprecedented water system, allowing Los Angeles to become America's second-largest city, and who was also responsible for the design and construction of the St. Francis Dam.
Driven by eyewitness accounts and combining urban history with a life-and-death drama and a technological detective story, "Floodpath "grippingly reanimates the reality behind L.A. noir fictions such as the classic film "Chinatown." In an era of climate change, increasing demand on water resources, and a neglected American infrastructure, the tragedy of the St. Francis Dam has never been more relevant.
About the Author
Jon and Nancy Wilkman are husband and wife documentary filmmakers and writers, with a special interest in history. Their documentaries have received numerous awards and have been seen around the world. Long-time Angelenos, Jon and Nancy share a passion for their city's rich and underappreciated past, as well as L.A.'s vibrant and multicultural present.