No Higher Power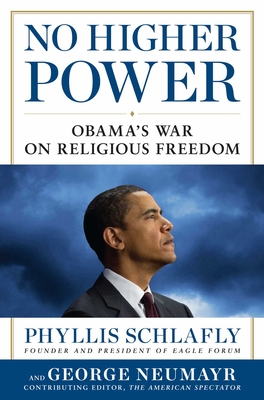 No Higher Power
Obama's War on Religious Freedom
Regnery Publishing, Hardcover, 9781621570127, 217pp.
Publication Date: July 23, 2012
* Individual store prices may vary.
Buy at Local Store
Enter your zip code below to purchase from an indie close to you.
or
Buy Here
Description
The Obama administration's overreaching and pervasive secularist policies represent the greatest government-directed assault on religious freedom in American history. So argue conservative movement leader Phyllis Schlafly and journalist George Neumayr in their new book, "No Higher Power." In "No Higher Power," Schlafly and Neumayr show how Obama is waging war on our religious liberties and actively working to create one nation under him rather than one nation under God. ""Obama views traditional religion as a temporary opiate for the poor, confused, and joblessa drug that will dissipate as the federal government assumes more God-like powers, and his new secularist beliefs and policies gain adherents,"" write Schlafly and Neumayr. From cutting funding for religious schools to Obama's deliberate omission of God and religion in public speeches to his assault on the Catholic church, "No Higher Power" is a shocking and comprehensive look at how Obama is violating one of our most fundamental rightsand remaking our country into a nation our Founding Fathers would hardly recognize.
About the Author
Phyllis Schlafly is a national leader of the conservative movement since the publication of her best-selling 1964 book, "A Choice Not An Echo". Author of 20 books, Schlafly has written a monthly newsletter since 1967 called "The Phyllis Schlafly Report" and a syndicated column, which appears in 100 newspapers. Her daily radio commentaries are heard daily on over 600 stations, and her radio talk show on education called "Eagle Forum Live" is heard weekly on 90 stations. She lives in St. Louis.