Everlast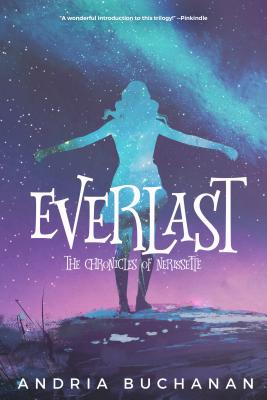 Everlast
Entangled Publishing, Paperback, 9781622660063, 326pp.
Publication Date: August 27, 2013
* Individual store prices may vary.
Buy Now
or
Shop Local
Enter your zip code below to purchase from an indie close to you.
Description
Everlast (Chronicles of Nerissette) by Andria Buchanan:
Allie Munroe has only ever wanted to belong, maybe even be well liked. But even though she's nice and smart and has a couple of friends, she's still pretty much the invisible girl at school. So when the chance to work with her friends and some of the popular kids on an English project comes up, Allie jumps at the chance to be noticed.
And her plan would have worked out just fine if they hadn't been sucked into a magical realm through a dusty old book of fairy tales in the middle of the library.
Now, Allie and her classmates are stuck in Nerissette, a world where karma rules and your social status is determined by what you deserve. Which makes a misfit like Allie the Crown Princess, and her archrival the scullery maid. And the only way out is for Allie to rally and lead the people of Nerissette against the evil forces that threaten their very existence.
Praise For Everlast…
Praise for Patricia's other work: "Patricia Eimer puts a fun, new spin on what it means to be the devil's daughter" -- Linda Wisdon, National Bestselling Author, Demons are a Girl's Best Friend "Unique, witty characters and an engaging plot! This is not one to miss!" -- Paige Cuccaro, author of Hellsbane