The Family Cooks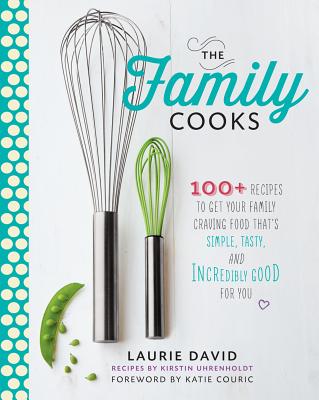 The Family Cooks
100+ Recipes to Get Your Family Craving Food That's Simple, Tasty, and Incredibly Good for You
Rodale Books, Hardcover, 9781623362508, 288pp.
Publication Date: April 22, 2014
* Individual store prices may vary.
Buy at Local Store
Enter your zip code below to purchase from an indie close to you.
or
Buy Here
Description
For families, eating right has become a monumental challenge. Cultural messages convince us that we no longer have time to cook, and food marketers spend billions persuading us that packaged, processed food is convenient, satisfying . . . and the key to happiness. Half of all our meals are now eaten outside the home. The result? Skyrocketing rates of heart disease and diabetes and unprecedented levels of childhood obesity. This crisis is movingly portrayed in author and activist Laurie David's new documentary (coexecutive produced with Katie Couric), "Fed Up "
Luckily, we have a solution: Studies have clearly shown that eating home-cooked meals reduces obesity and develops lifelong healthy eating habits. There is an exciting movement afoot that involves a skillet, a few good knives, and some fresh ingredients: Home cooking is making a comeback.
In" The Family Cooks," David inspires parents and kids to take control of what they eat by making it themselves. With her longtime collaborator, Kirstin Uhrenholdt, David offers more than 100 recipes that are simple, fast, "low in the bad stuff and high in the good stuff," and designed to bring kids into the cooking process. The authors also demystify cooking terms and break down basic prep techniques, creating stress-free meals that foster health, togetherness, and happy palates. "The Family Cooks" is the ideal companion for unseasoned chefs of all stripes, whether they're parenting or being parented.
About the Author
Laurie David is the founder of StopGlobalWarming.org, the Virtual March to Stop Global Warming, a bipartisan Internet campaign launched with Senator John McCain and Robert F. Kennedy Jr. A trustee of the Natural Resources Defense Council, David was producer of the Oscar-winning An Inconvenient Truth and creator of the award-winning comedy special Earth to America!

Katie Couric had been a co-anchor of "NBC News' Today" since 1991, and in that position she has covered and debuted many important stories about life in America. She is also a contributing anchor for the newsmagazine "Dateline NBC." She has been awarded two Emmys, named one of "Glamour"'s Women of the Year, and won wide recognition for her excellent journalism. Raised in Arlington, Virginia, she lives in New York with her two daughters and is at work on her next book.
Praise For The Family Cooks…
"With these delicious recipes that celebrate flavor and seasonality, Laurie David gives parents a simple roadmap for bringing children into a new and lasting relationship to food. All families should have this wonderful book in their kitchen!"—Alice Waters, owner of Chez Panisse Restaurant and Café, founder of the Edible Schoolyard Project, and the author of The Art of Simple Food I and II
"Wow! A dream come true for busy parents. Fun to read... gorgeous to look at...delicious to eat. Family Cooks will make your kids ask for seconds and build great eating habits to last a lifetime. How great for the price of just one book!"—
Harvey Karp, MD, creator of the DVD/book The Happiest Toddler on the Block