Mage's Blood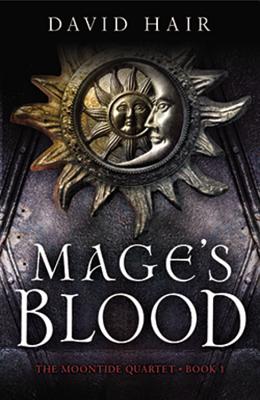 Mage's Blood
Jo Fletcher, Hardcover, 9781623650148, 704pp.
Publication Date: September 3, 2013
* Individual store prices may vary.
Buy at Local Store
Enter your zip code below to purchase from an indie close to you.
or
Not Currently Available for Direct Purchase
Description
David Hair is the award-winning writer of two young adult fiction series, "The" "Aotearoa " and "The Return of Ravana" (based on the Vedic epic "The Ramayana"). "Mage's Blood, "the first volume of a series called "The Moontide Quartet, " is Hair's first work of adult fantasy. In a starred review of "Mage's Blood," "Publisher's Weekly" said, "This multilayered beginning to the Moontide Quartet plunges readers into a taut network of intrigue and mystery that tightens with each chapter. Hair portrays a stark and beautiful world breaking apart, with both good and evil characters desperate to reshape it through magic, war, and treachery. This strong debut should draw in fantasy readers of all stripes."
Most of the time the Moontide Bridge lies deep below the sea, but every twelve years the tides sink and the bridge is revealed, its gates open for trade. The Magi are hell-bent on ruling this new world, and for the last two Moontides they have led armies across the bridge on "crusades of conquest." Now, the third Moontide is almost here, and this time the people of the East are ready for a fight... but it is three seemingly ordinary people that will decide the fate of the world.
About the Author
David Hair was raised in New Zealand s North Island. He started traveling extensively after finishing his degree in history and classical studies, and has lived in Britain and India, and spent time in Europe and South-East Asia, North America and Russia, exploring his fascination with anthropology and ancient history and culture. David now lives in Wellington, New Zealand, with his wife Kerry. His experiences have inspired and informed his writing, two award-winning YA series, The Aotearoa, YA fantasy adventure set in his native New Zealand, and The Return of Ravana, based upon the Indian epic The Ramayana. Scarlet Tides is the sequel to Mage s Blood; they are the first and second books in the magnificent epic fantasy The Moontide Quartet.
Praise For Mage's Blood…
"Hair's first foray into adult fantasy is similar in scope to George R.R. Martin's Ice and Fire and Robert Jordan's Wheel of Time novels and is sure to please those authors' many fans."—Jane Henriksen Baird, Library Journal (starred review)

"This multilayered beginning to the Moontide Quartet plunges readers into a taut network of intrigue and mystery that tightens with each chapter. Hair portrays a stark and beautiful world breaking apart, with both good and evil characters desperate to reshape it through magic, war, and treachery. This strong debut should draw in fantasy readers of all stripes."—Publishers Weekly (starred review)

"[Mage's Blood] often recalls Frank Herbert's Dune novels. . . . Among the payoffs are plenty of cliffhangers, including one that nicely ushers in the next volume—which fans will await eagerly."—Kirkus Reviews

"This is an exotic story of dangerous magic and intrigue that kept me turning the pages until late into the night."—Lesley Livingston, award-winning author of the Wondrous Strange trilogy

"I quickly became immersed in the world Hair created and devoured it in the course of a few days. As soon as it's available, I plan to read the second book in the same way—the story is that good." —Spencer Green, Online Fantasy Network 

"MAGE'S BLOOD is action-packed and memorable. The book was such a page-turner that I couldn't put it down...it was a well written, unique and enjoyable read."—Miss Literati

"Moontide quartet is David Hair's explosive debut as an epic fantasy writer and should be read by all with an interest in gritty fantasy and alternate histories."—Fantasy Online