The Cold Nowhere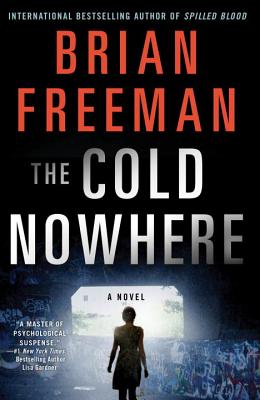 The Cold Nowhere
A Jonathan Stride Novel
Quercus Books, Hardcover, 9781623651312, 432pp.
Publication Date: April 1, 2014
* Individual store prices may vary.
Buy at Local Store
Enter your zip code below to purchase from an indie close to you.
or
Buy Here
Description
Edgar Award finalist and international bestselling author Brian Freeman brings the long-awaited return of Lieutenant Jonathan Stride to the bitter cold of Duluth, Minnesota.
 
Sixteen-year-old Catalina Mateo shows up unannounced one night in Detective Jonathan Stride's home, dripping wet from a desperate plunge into the icy waters of Lake Superior. Her sodden clothes stained with blood, Cat spins a tale of a narrow escape from a shadowy pursuer.
 
Stride decides to trust this girl, but his judgment may be clouded by memories of Cat's mother. Ten years earlier, Cat hid under the porch of her family home while her mother was brutally butchered by her ex-con father. Stride still blames himself for not preventing the slaughter.

But is Cat telling the truth? Stride's police partner, Maggie Bei, doubts the homeless girl, who has been living rough on the streets of Duluth since her mother's death—and now sleeps with a knife hidden under her pillow.
 
As Stride investigates Cat's story, more violence trails in the teenager's wake—and Maggie's suspicions about her deepen. Now a single question haunts the void between them: Should Stride be afraid for—or of—this terribly damaged girl?
About the Author
Brian Freeman is the internationally bestselling author of psychological suspense novels featuring detectives Jonathan Stride and Serena Dial. His books have been sold in 46 countries and 18 languages. His debut thriller, "Immoral", won the Macavity Award and was a nominee for the Edgar, Dagger, Anthony, and Barry awards for best first novel. His other novels include "The Bone House", "The Burying Place", "In the Dark", and "Stalked". Brian is drawn to complex characters, and says, My stories are about the hidden intimate motives that draw people across some terrible lines. Brian and his wife, Marcia, have lived in Minnesota for more than twenty years.
Praise For The Cold Nowhere…
PRAISE FOR THE COLD NOWHERE:

"The Cold Nowhere is a triumphant return . . . a master of the psychological thriller . . . the best Stride book yet."—Chuck Frederick, Duluth News Tribune

"Freeman delivers an edge-of-the-seat thriller that begs to be read in one sitting." —BookPage

"Masterfully plotted . . . Freeman shows how those endless North Shore winters have toughened and aged Stride, closing him off from the world, but the author also convincingly makes Stride break out of his icy, self-imposed shell."—Publishers Weekly (starred)

"an outstanding mystery thriller."—San Francisco Book Review

"Back off, Nordic noir. For sheer wintry relentlessness and icebound desolation, the various Scandinavian settings now fashionable in thrillers cannot compete with the decaying shipping and mining city of Duluth,Minnesota. And this small city, whose crumbling mansions and factories converted to shops are an architectural reminder of an earlier era, is the perfect place for a thriller about the stranglehold the past exerts on the present. . . The narrative moves between the point of view of Stride and that of the girl's pursuer, making this well-plotted, atmospheric thriller feel like a high-stakes chess game."—Connie Fletcher, Booklist

"[The] characters are well drawn and add believability to the surprising twists and turns of the plot. . . . The Cold Nowhere is a solid mystery wrapped around interesting characters coming to grips with their troubled pasts and searching for redemption." —Scott Pearson, Suspense Magazine

"I don't think I realized how much I missed the Jonathan Stride series until THE COLD NOWHERE, the latest installment, released . . . Seemingly incapable of writing a bad paragraph, Freeman is a master storyteller who makes the ice and grit and grime of street life in Duluth materialize beneath the feet of the reader. I was tempted to drive there just to check out the graffiti graveyard where the grim climax takes place. Writing and storytelling don't get much stronger than that, and thriller fiction doesn't get much better than The Cold Nowhere."
—Joe Hartlaub, BookReporter

"The Cold Nowhere is a riveting tale where you feel that you are discovering the details along side of Detective Stride . . . well-organized and intense with well-developed characters. This psychological thriller keeps the reader engaged past the last page. . . . The Cold Nowhere is a masterful tale written by a phenomenal storyteller." — Teri Davis, Mysteries Galore

"another rousing tale of suspense . . .  a bevy of unexpected twists and turns that make for an emotional and chilling story of page-turning mystery."—Express Milwaukee

"An outstanding mystery thriller"—San Francisco Book Review