November 22, 1963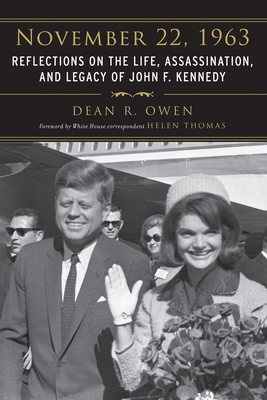 November 22, 1963
Reflections on the Life, Assassination, and Legacy of John F. Kennedy
Skyhorse Publishing, Hardcover, 9781626360341, 384pp.
Publication Date: September 3, 2013
* Individual store prices may vary.
Buy at Local Store
Enter your zip code below to purchase from an indie close to you.
or
Buy Here
Description
As the fiftieth anniversary of President Kennedy's assassination draws near, the events of that fateful day will undoubtedly be on the minds of many throughout the world. Here Dean Owen curates a fascinating collection of interviews and thought-provoking commentaries from notable men and women connected to that notorious Friday afternoon. Those who worked closely with the president, civil rights leaders, celebrities, prominent journalists, and political allies are among the nearly one hundred voices asked to share their reflections on the significance of that day and the legacy left behind by John F. Kennedy. A few of the names include:
Tom Brokaw, a young reporter in Omaha in 1963
Andy Rooney, veteran television and radio newscaster
Letitia Baldrige, former Chief of Staff to First Lady Jacqueline Kennedy
Congressman John Lewis, sole survivor of the Big Six black leaders who met the president after the March on Washington in August of 1963
Cliff Robertson, Academy Award winning actor who portrayed JFK in PT 109
Rev. Billy Graham, evangelist
With a compelling foreword from renowned author and journalist Helen Thomas, November 22, 1963 investigates not only where we were that day nearly fifty years ago, but where we have come since. A commemorative and insightful read, this book will unite generations.

About the Author
Dean R. Owen is an award-winning journalist with more than thirty years of experience as a reporter and editor in Washington covering Congress, the Supreme Court, and the White House. He was seven years old on Friday, November 22, 1963 and cites the events of that day and their aftermath as the catalyst for his professional career in journalism and public policy. He's been featured in the New York Times, Washington Post, Wall Street Journal, Los Angeles Times, and International Herald Tribune, as well as on CNN.com and the Huffington Post. He lives in Seattle, Washington.

Helen Thomas is the dean of the White House press corps. The recipient of more than forty honorary degrees, she was honored in 1998 with the inaugural Helen Thomas Lifetime Achievement Award, established by the White House Correspondents' Association. The author of Thanks for the Memories, Mr. President; Front Row at the White House; and Listen Up, Mr. President, she lives in Washington, D.C., where she writes a syndicated column for Hearst.