They Killed Our President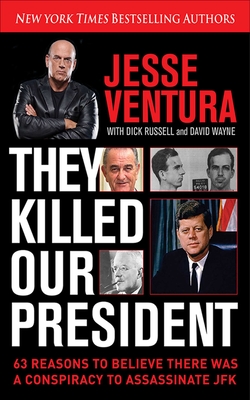 They Killed Our President
63 Reasons to Believe There Was a Conspiracy to as
Skyhorse Publishing, Hardcover, 9781626361393, 368pp.
Publication Date: October 1, 2013
* Individual store prices may vary.
Buy Now
or
Shop Local
Enter your zip code below to purchase from an indie close to you.
Description
Unless you ve been living under a rock for the past fifty years, you re aware of the many hypotheses that the assassination of President John F. Kennedy was not done by one man. Whether you ve read one or a dozen of the books on this topic, there's no way to fully grasp the depth of this conspiracy.
For the first time ever, "New York Times" bestselling authors Jesse Ventura and Dick Russell have teamed up with some of the most respected and influential assassination researchers to put together the ultimate compendium that covers every angle from the plot to the murder of JFK. "They Killed Our President" will not only discuss the most famous of theories, but will also bring to light new and recently discovered information, which together shows that the United States government not only was behind this egregious plot, but took every step to make sure that the truth would not come out.With 2013 marking the fiftieth anniversary of JFK's assassination, this is the perfect time for "They Killed Our President" to be available to readers. The research and information in this book are unprecedented, and there's nobody better to bring this to everyone's attention than the former governor of Minnesota and US Navy SEAL, Jesse Ventura.

About the Author
Jesse Ventura is the former governor of Minnesota and author of four national bestsellers, including63 Documents the Government Doesn't Want You to Read and American Conspiracies. Ventura is the host of the television show Conspiracy Theory with Jesse Ventura on truTV.

Dick Russell is a nationally respected activist, environmentalist, and author of critically acclaimed books, including, with Jesse Ventura, The New York Times bestsellers63 Documents the Government Doesn't WantYou toReadand American Conspiracies. He is also the author of On the Trail of the JFK Assassins and The Man Who Knew Too Much. Russell has been publishedin many of the nation's top magazines and has been a guest on numerous national TV and radio programs, including theNBC Nightly News.

David Wayne, P.h.D. is the Director of Mathematics and Computer Technology for the K-12 public school system in Oceanside, NY. He is an Adjunct Assistant Professor of Mathematics for Hofstra University, has served as Math Department Chair for several high schools, and is a member and officer in several national mathematical associations and honor societies.