Discover Magazine's Vital Signs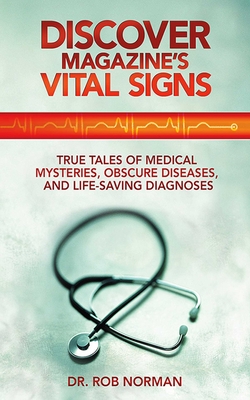 Discover Magazine's Vital Signs
True Tales of Medical Mysteries, Obscure Diseases, and Life-Saving Diagnoses
Skyhorse Publishing, Paperback, 9781626361737, 279pp.
Publication Date: November 2013
* Individual store prices may vary.
Buy Now
or
Shop Local
Enter your zip code below to purchase from an indie close to you.
Description
Vital Signs, a popular column featured in Discover Magazine, has long been a favorite of readers, showcasing, each month, fascinating new tales of strange illnesses and diseases that baffle doctors and elude diagnosis. Each tale is true and borders on the unbelievable. It's no wonder that throughout the years the column has become an unofficial textbook for medical students, interns, doctors, and anyone interested in human illness and staying healthy. Now, physician and Vital Signs editor Robert Norman has compiled the very best of the series into an intriguing and suspenseful collection for fans and new readers alike. A young woman carries a baby that wasn t her own and wasn t even a human; Aretha Franklin gives a physician the insight needed to save a life; a modern gynecologist faces an ancient disease. These cases and more, representing a wide variety of unique medical anomalies and life-or-death situations, bring readers to the front lines of the medical fray.
Fans of hit medical dramas such as House MD will savor the opportunity to read of the real-life cases that puzzled doctors, the gripping detective work that ensued, and the completely unexpected, often life-saving diagnoses. Discover Magazine's Vital Signs is a glimpse into the exciting work of real medical professionals, told from their perspective, and revealing that anything can happen in medicine. Readers will never look at a routine check-up the same again.
About the Author
Dr. Robert Norman is an award-winning dermatologist who has been in practice for over 25 years. He has written 18 books, including "The Woman Who Lost Her Skin (And Other Dermatological Tales)."

Corey S. Powell is the former editor in chief of American Scientist and Discover, where he is currently editor at large and continues to write the "Out There" column and blog. He is also a visiting scholar at NYU's SHERP science journalism program, as well as a freelance writer for Popular Science, Smithsonian, Nautilus, and Aeon; his article "The Madness of the Planets" appears in The Best American Science and Nature Writing 2014. He lives in Brooklyn with his wife, two daughters, and a small collection of Permian-era fossils. He has collaborated with Bill Nye on "Undeniable" and "Unstoppable".