The Emergency Sasquatch Ordinance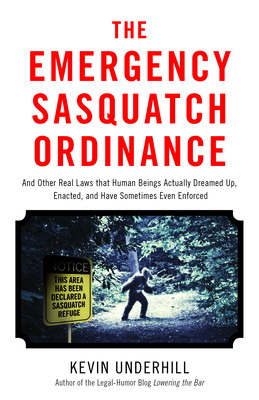 The Emergency Sasquatch Ordinance
And Other Real Laws That Human Beings Actually Dreamed Up, Enacted, and Sometimes Even Enforced
American Bar Association, Paperback, 9781627222693, 334pp.
Publication Date: March 7, 2014
* Individual store prices may vary.
Buy at Local Store
Enter your zip code below to purchase from an indie close to you.
or
Buy Here
About the Author
Kevin Underhill is a partner at Shook, Hardy & Bacon LLP, a moderately ginormous U.S. law firm that specializes in litigation. In that capacity, he writes lots of things that are not very funny at all. But he is also the author of the blog Lowering the Bar (www.loweringthebar.net). Featuring daily posts about weird legal issues, Lowering the Bar is widely considered one of the premiere sources of legal humor on the planet. Yes, it is also one of the only sources of legal humor on the planet. Kevin fails to see your point. Almost anything that relates to the legal system, and is stupid, may turn up on Lowering the Bar. Here are a few of the 3,000 or so posts to date: Swiss Supreme Court Upholds Ban on Nude Hiking Man Who Stabbed Two Lawyers With a Pencil Stabs Another Lawyer With a Pencil You Say "Indefinite Military Detention of Citizens" Like It's a *Bad* Thing A Brief Research Memo Concerning a Simulated Chicken Head In Canada It Is Illegal to Alarm the Queen The Man Who Sued Himself Police Skeptical of Suspect's Claim to Be Invisible Injury Code W5922XA: Struck by Turtle Court Rules Punch to the Groin Was No "Accident" "Radical Times Call for Radical Measures," Says Lawyer Who Dropped His Pants Kevin's work has also appeared in or been featured by (among others) Forbes.com, the Huffington Post, The Wall Street Journal, The Green Bag, and The Recorder, as well as NPR's "Weekend Edition" and, for some reason, "Science Friday." Most importantly for purposes of your visit to Amazon.com, Kevin is the author of the new and extremely important book The Emergency Sasquatch Ordinance, which discusses hundreds of strangebuttrue laws that humanity has inflicted on itself over the past 5,000 years. Kevin lives in San Francisco but can be found electronically at kevin@loweringthebar.net or on Twitter @loweringthebar.