Beyond Training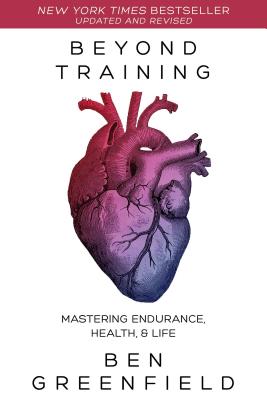 Beyond Training
Mastering Endurance, Health, and Life
Victory Belt Publishing, Hardcover, 9781628600124, 480pp.
Publication Date: April 15, 2014
* Individual store prices may vary.
Buy at Local Store
Enter your zip code below to purchase from an indie close to you.
or
Buy Here
Description
Whether you're an extreme exercise enthusiast or you're just looking to shed
a few pounds, this is the last book on training, endurance, health, and
life you will ever need.
In this book you will learn:
The 2 best ways to build fitness fast without destroying your body
Underground training tactics for maximizing workout efficiency
The best biohacks for enhancing mental performance and entering the zone
How to know with laserlike accuracy whether your body has truly recovered
26 ways to recover quickly from workouts, injuries, and overtraining
The 25 most important blood and saliva biomarkers and how to test them
5 essential elements of training that most athletes neglect
7 stress-fighting weapons to make your mind-body connection bulletproof
Proven systems to enhance sleep, eliminate insomnia, and conquer jet lag
40 high-calorie, nutrient-dense meals that won't destroy your metabolism
Easy tools for customizing your carbs, proteins, and fats for your unique body
9 ways to fix a broken gut, detox your body, and create a toxin-free life
A complete system to safeguard your immune system and stomach
Simple time-efficiency tips for balancing training, work, travel, and family

About the Author
Voted the National Strength and Conditioning Association (NSCA) Trainer of the Year in 2008, Ben Greenfield is recognized as one of the top fitness, triathlon and nutrition experts in the nation, with multiple books and DVDs to his credit. He is the host of the popular Get-Fit Guy podcast at QuickAndDirtyTips.com with an average 170,000 downloads per month.
Ben coaches and trains individuals for weight loss, lean muscle gain, holistic wellness, and sports performance all over the world via his company, Pacific Elite Fitness. He also runs the Rock Star Triathlete, the Internet's top school for learning the sport of triathlon and the business of triathlon coaching. Ben's popular fitness, nutrition and wellness website (BenGreenfieldFitness.com) features blogs, podcasts, and product reviews. His credentials include: Bachelor's and Master's degrees from University of Idaho in sports science and exercise physiology, personal training and strength and conditioning certifications from the NSCA, a sports nutrition certification from the International Society of Sports Nutrition (ISSN), and over 10 years experience in coaching professional, collegiate, and recreational athletes from all sports. Ben is a top-ranked triathlete for Triathlon Northwest and has finished multiple Ironmans.