Walt Before Skeezix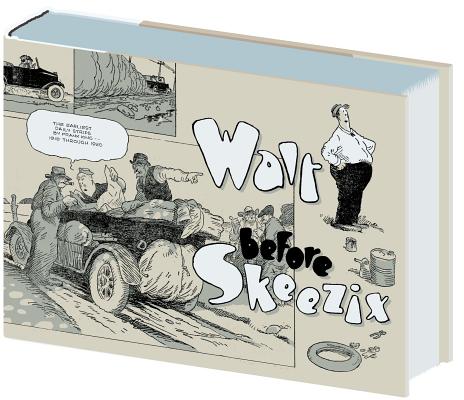 Walt Before Skeezix
Drawn & Quarterly, Hardcover, 9781770461413, 720pp.
Publication Date: June 10, 2014
* Individual store prices may vary.
Shop Local
Enter your zip code below to find indies closest to you.
Description
The prelude to the Walt and Skeezix series offers a portrait of a country in transition

Walt Before Skeezix collects the first years of Frank King's beloved comic strip Gasoline Alley—one of the most widely read and syndicated strips of its time, which is still syndicated today. These comics, produced between 1919 and 1920, focus primarily on Walt Wallet and his friends as they engage with the then-novel automobile sensation that was sweeping the nation.
     This period of the newspaper strip is especially fascinating as a historical time capsule, charting a moment in America's past when horses and buggies shared the road with cars, and when the country was making the transition from rural farmers to urban, industrialized society.
     King was a pioneering American cartoonist who changed comics forever by setting his strip in contemporary America and having his characters age. These lavish volumes pay tribute to the evolution of his style and storytelling. Designed and edited by the world-renowned cartoonist Chris Ware (Building Stories), Walt Before Skeezix includes a wide-ranging introductory essay from the noted comics historian Jeet Heer, the coeditor of Arguing Comics: Literary Masters on a Popular Medium, and an essay by Tim Samuelson, the cultural historian for the city of Chicago, about how Chicago's history is reflected in King's newspaper strip.
About the Author
Frank King has been preaching and teaching the Word of God for over thirty years. He is a former church pastor. He currently ministers as an evangelist.
Frank holds a Master of Theology degree. He is the author of Indiscreetly Yours, a Christian novel for teens, and Steps to the Victorious Walk, a book aimed at helping Christians progress from a genuine salvation experience to a dynamic relationship with Christ.
Frank's website is at www.efrankking.com. His insightful blog is at www.frankking.net. He and his wife, Cynthia, have been married for over thirty-five years, and they have six children.
Cartoonist/designer Chris Ware is the author of "Jimmy Corrigan: The Smartest Kid on Earth", "Quimby the Mouse", and the "ACME Novelty Datebook". Ware was born in 1967, two years before Frank King's death.
Jeet Heer, a former columnist for the "National Post" (Canada), has been published in "Slate", the "Boston Globe", the "Guardian", the "Comics Journal", and many other venues. He is also the coeditor (with Kent Worcester) of "Arguing Comics: Literary Masters on a Popular Medium" and "A Comics Studies Reader", both published by University Press of Mississippi.
Praise For Walt Before Skeezix…
"Frank King's Gasoline Alley may be the best syndicated comic strip ever. Walt and Skeezix lovingly collects two years' worth of the strip." —Playboy

"There is a lovely, often wrenching gravity to the strip. King knows how humans as well as cars work, especially toddlers." —The New York Times Book Review