Ones and Twos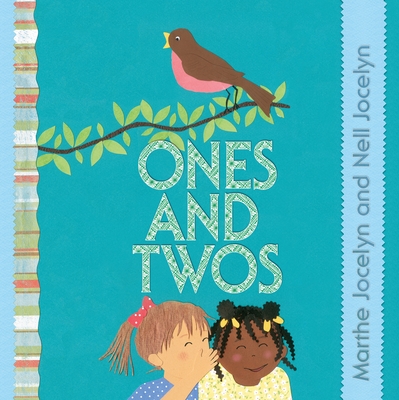 Ones and Twos
Tundra Books (NY), Hardcover, 9781770492202, 24pp.
Publication Date: May 10, 2011
* Individual store prices may vary.
Buy at Local Store
Enter your zip code below to purchase from an indie close to you.
or
Buy Here
Description
Marthe Jocelyn's ability to present important-to-learn concepts to the very young has garnered accolades from around the world. Ones and Twos is her first book collaboration with her nineteen-year-old art student daughter, Nell, and, together, they explore numeracy, sorting, and pairing. Each brightly illustrated page invites children to identify familiar objects ranging from kites to socks, from one nest to the two birds sitting in it. Ones and Twos gives little toddlers and their caregivers much to discuss and to enjoy together, and it introduces an exciting new creative team.
About the Author
Marthe Jocelyn is the award-winning author and illustrator of over thirty books for babies, kids and teens. In 2009, she was the recipient of the prestigious Vicky Metcalfe Award for her body of work. For more information, visit www.marthejocelyn.com.


Praise For Ones and Twos…
PRAISE FOR ONES AND TWOS:
"This delightful concept book brings visual literacy to the forefront, supported by a minimal text…. The simple descriptive verses … are spot-on to reinforce images of numeracy, sorting, paring, common-object recognition, and the daily lives of young children. Each page or spread is illustrated with creative, engaging collages on paper, textured fabrics, and items … extending the opportunity for learning and discussion…. The charming collages are the stars of the show and will inspire curiosity"
—Starred Review, School Library Journal

"… Jocelyn's imaginative collages help create a book rich in playful details, with a storyline told through pictures that provide depth to the concepts explored in the text…. Although the text is very spare, words like 'lone,' 'swoop,' and 'chums' provide verbal interest. The variety of colours and textures add dept and fascination to the collage images…. Sophisticated and yet endearingly simple, Ones and Twos can be enjoyed by both very young children and the adults who read it with them."
—Starred Review, Quill & Quire


PRAISE FOR A DAY WITH NELLIE:
"Jocelyn's charming, intricate collages magically turn cloth, buttons, and other materials into lively, colorful, multidimensional scenes. Children will enjoy the pictures and relate to this day in the life of a typical pre-schooler."
– School Library Journal

"…delightfully child-friendly…There are so many things to see and so many different objects…used to make the pictures that numerous readings will be welcomed."
– Booklist

PRAISE FOR WHICH WAY?:
"…As a teaching tool this book is a standout, but it also holds it own as a charming and well-illustrated storybook. Highly recommended."
– Resource Links

PRAISE FOR SAME SAME:
"… a book like this is an essential part of the very young child's library."
– Starred Review, Publishers Weekly

"An appealing and eye-catching addition."
– School Library Journal