Ella May and the Wishing Stone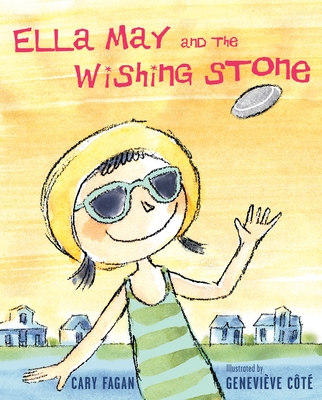 Ella May and the Wishing Stone
Tundra Books (NY), Hardcover, 9781770492257, 32pp.
Publication Date: August 9, 2011
* Individual store prices may vary.
Buy Now
or
Shop Local
Enter your zip code below to purchase from an indie close to you.
Description
One day, Ella May finds a stone that has a line going all-all-all the way around it. Surely a stone this special must grant wishes, she decides. Soon she is busy making wishes and bragging about them. When her friends want to share the fun, Ella May objects. But she soon learns that keeping the stone for herself is a sure way to lose friends. By using her imagination much more powerful than any stone she is able to grant everybody's wishes, including her own.
Cary Fagan's witty and sharply observed story will delight young readers who are beginning to explore the pleasures and challenges of sharing and friendship.
About the Author
Cary Fagan is an award-winning children s author whose work includes the Kaspar Snit novels, bestsellers in his native Canada. He lives with his family in Toronto. To learn more, please visit www.caryfagan.com.
Genevieve Cote was born in Montreal in 1964. For as long as she can remember, she has always wanted to be an illustrator. It seemed considerably easier than becoming an astronaut, which was her second choice.
Over the last fifteen years, she has illustrated a wide variety of subjects serious, funny, or frankly bizarre for publications like "The New York Times", the "Boston Globe" and "Utne Reader". She has also worked for various advertising agencies in Toronto, Montreal, and Melbourne. Illustrating children s books, however, is what she loves best of all.
Her work has appeared in "Communication Arts", "Print", "Critique", and "American Illustration", and has earned her several awards.
She lives in Montreal, Quebec.
Praise For Ella May and the Wishing Stone…
"…Fagan believably captures the delicate balance of friendship in the very young and lets the story play out with welcome complexity. Côté's illustrations are simple without being cartoonish, demonstrating the same warm understanding of childhood. Thoughtful and Touching"
—Kirkus Reviews
 
 "…Cary Fagan… does a great job here with both the fun, engaging story, and the fine tricks of repetition and structure that make Ella May and the Wishing Stone ideal for early reader. Geneviève Côté's watercolour illustrations are lively and simple, focusing on the kids themselves and hewing closely to the narrative…. The net result is an original and imaginative treatment of one of the hardest lessons of early childhood –sharing –in a colourful package that's likely to charm kids and adults alike."
—Quill & Quire

"Côté's…illustrations drive the story along with light and expressive outlines and wash effects… children won't have any difficulty following the action, and they'll recognize Ella's conflicting impulses."
—Publishers Weekly

"…the little girl uses her imagination to reconnect with her friends, and realizes that they are far more important than wishes. Ultimately, she is able to grant everyone's wishes, including her own."
–The Waterloo Region Record

"…The charming drawings by Geneviève Côté depict a late summer's day on the sidewalk. It's easy to forgive Ella May when she finally comes to her senses and realizes that friends are much more important than possessions…."
—Montreal Review of Books