Hey Canada!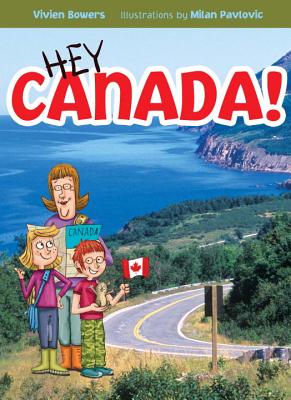 Hey Canada!
Tundra Books (NY), Hardcover, 9781770492554, 72pp.
Publication Date: May 8, 2012
* Individual store prices may vary.
Buy at Local Store
Enter your zip code below to purchase from an indie close to you.
or
Buy Here
Description
Gran has decided that she is taking nine-year-old Alice and eight-year-old Cal on a road trip across Canada "before she's old and creaky." With a sparkling combination of poems, silly songs, tweets and blogs, the trio records the trip for readers everywhere to share. Starting in St. John's Newfoundland, where they have a "find-it" list that includes a moose and an iceberg and going all the way to the Pacific Ocean, the gang in Hey Canada! offers a delightful way to learn about vast, varied, and surprising Canada.

The book combines narrative, poems, photos, comics about historical events such as the battle at Fortress Louisburg, maps (including provincial flags, birds, and flowers), in a lively, easily accessible format. Not only great fun to read, this is a valuable resource for young Canadians and for visitors across the country.
About the Author
Vivien Bowers' terrific sense of humor shines through her writing, and her eye for finding the facts that kids love makes her a favorite author for readers of all ages. Always entertaining, her multi-award-winning books are proven winners that delight, inform and educate in the best way. Dianne Eastman's wonderful Moose and Goose characters and abundant photography complement the dynamic text perfectly in this truly original children's volume.
Vivien Bowers' first book for children, "Crime Science: How Investigators Use Science to Track Down the Bad Guys," garnered several prestigious awards. Her latest book, "Wow Canada! Exploring this Land from Coast to Coast to Coast," also continues to receive awards and honors, and is currently on its sixth printing. Vivien resides in a small town outside of Nelson, British Columbia, where she juggles a writing career and raising two young sons.
Praise For Hey Canada!…
FINALIST, BC Book Prizes' Christie Harris Illustrated Children's Literature Prize

"This is probably the best Canadian travel book written for pre-teens.... Filled with facts, simply related history, engaging tales and colour illustrations presented as souvenirs, postcards and slides, Hey Canada! is guaranteed to stimulate a youngster's urge to explore the country."
—The Globe and Mail

"…Observations about capital cities and tourist attractions are captured in Alice's blog, Cal's tweets, and their grandmother's poetry…. Full-page comic strips interspersed throughout and the hamster updates keep the tone of the narration light. Color photographs, cartoon illustrations, and interactive sidebars entitled 'Find It' add visual appeal. Bowers gives readers an honest, attractive, and interesting glimpse into this nation's geography and culture by highlighting the unique aspects of each province and territory."
— School Library Journal
 
"[Hey Canada!] aims to both entertain and inform. A smattering of information about the country's history, nature, landmarks, and geography is interspersed with the repartee of the three human travelers and reports on the shenanigans of the constantly escaping hamster. Illustrations depict the travelers as cartoon characters and frequently insert them into the abundant small photos and drawings of locations…. Students looking for an overview of Canada will find this useful…."
—Booklist
 
"…Geared for a younger audience, Hey Canada! is easier to read and will be enjoyed by boys and girls alike. The text flows with facts as well as humorous anecdotes made by the two kids and Gran…. Bowers has done a wonderful job of keeping the story flowing with information that could have become boring, but that stays alive because of the kids' quips."
—Recommended, CM Magazine
 
"… With poems, silly songs, tweets and blogs, the trio records the trip and offers a delightful way to learn about vast, varied, and surprising Canada."
—The Calgary Sun