The Reluctant Journal of Henry K. Larsen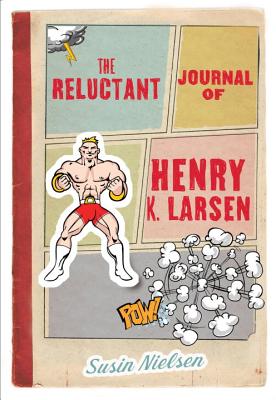 The Reluctant Journal of Henry K. Larsen
Tundra Books (NY), Hardcover, 9781770493728, 243pp.
Publication Date: September 11, 2012
* Individual store prices may vary.
Shop Local
Enter your zip code below to find indies closest to you.
Description
Darker than her previous novels, Susin peoples this novel about the ultimate cost of bullying with a cast of fabulous characters, dark humour, and a lovable, difficult protagonist struggling to come to terms with the horrible crime his brother has committed.
About the Author
SUSIN NIELSEN, a Toronto writer, worked on the " Degrassi Junior High" and "Degrassi High " series.
Praise For The Reluctant Journal of Henry K. Larsen…
Winner - Governor General's Award - Children's Literature (2012)
FINALIST, BC Book Prizes' Sheila A. Egoff  Children's Literature Prize 

 
 "The Reluctant Journal of Henry K. Larsen by Susin Nielsen is an engaging grief story. Thought-provoking and relevant, it addresses the effects of bullying in a realistic, compelling and compassionate way, exemplifying the adage 'There are two sides to every story.' Henry's journey is moving and weirdly, wildly funny."
—Jury's Citation, Governor General's Literary Award in Children's Text

"…Words and writing are often a salvation in Nielsen's YA fiction. Henry is forced to keep a journal by his therapist; he is at first reluctant, then obsessive about it. A born diarist, he exhibits the idiosyncratic voice of a memoirist, one keenly interested in documenting both his inner and outer worlds. He captures both with humour and heart…. Yet the novel is a dramedy, and believably balances lightness and darkness. It is a shame when the reader must put down the journal and say goodbye to Henry."
—The National Post

"…A realistic, poignant portrait of one teen who overcomes nearly unbearable feelings of grief and guilt."
—Kirkus Reviews

"Nielsen treats a heavy subject with a light, optimistic touch, and while Henry's passion and distress are evident, his wacky commitment to 'Saturday Night Smash-up' and his own ironic, yet earnest, perspective leavens the serious subject matter."
—The Toronto Star

"…Henry's is a tough story to read and I can only imagine how hard it was to write it. But it's one that really needs to be heard. And honestly, I couldn't have pictured anyone but Nielsen telling it."
—Lavender Lines

Beautiful and thought provoking The Reluctant Journal of Henry K. Larsen is filled with lessons, heartache, pain, anger, family and friendship. Wonderfully done…."
—Book Nerd

 "…a highly emotional story about a family that blames one another, and themselves, for an unimaginable tragedy. Nielsen's balance of humor and pathos is finely honed, making this a surprisingly breezy read for so heavy a topic."
—Booklist

"…With fully developed adult and child characters and a solid sense of middle school humor, the author has crafted an insightful and nuanced novel about bullying and suicide, and familial love and resilience."
—Starred, School Library Journal