One Step Ahead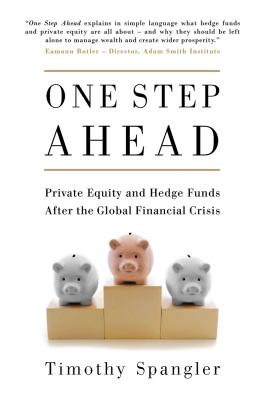 One Step Ahead
Private Equity and Hedge Funds After the Global Financial Crisis
ONEWorld Publications, Hardcover, 9781780742953, 358pp.
Publication Date: September 24, 2013
* Individual store prices may vary.
Buy Now
or
Shop Local
Enter your zip code below to purchase from an indie close to you.
Description
Never has there been such an appetite and desire to understand the financial institutions that govern us. But despite dominating international headlines, alternative investment vehicles including private equity and hedge funds remain elusive with few able to explain their success.
In this accessible and timely study, award-winning writer Timothy Spangler explains how funds are structured to function outside of the rules that restrict other financial organizations. Designed to adapt and react to new conditions, they have thrived since the financial downturn, despite new laws and robust regulations.
From start-ups to complex venture capital firms, this is the essential, no-nonsense guide to how hedge funds drive growth and influence markets. Staying one step ahead of the lawmakers, they continue to be significant players in both public and private sectors the world over.
About the Author
Timothy, a New York qualified lawyer and English solicitor, is a partner at Kaye Scholer. He regularly advises sponsors on the formation, structuring and negotiation of a wide variety of regulated and unregulated investment vehicles, as well as the full spectrum of securities and regulatory issues
typically associated with such transactions.
He has worked on a wide range of funds, including hedge funds, private equity funds, venture capital funds,
funds of funds and funds investing in particular countries or sectors. Such vehicles have been formed in
numerous jurisdictions, including the United Kingdom, the United States, the Cayman Islands, the Channel
Islands, the Isle of Man, Bermuda, Mauritius, the Netherlands, Luxembourg, Germany and Ireland. His clients
have included a full range of parties associated with funds - promoters, managers, advisers and investors.

Praise For One Step Ahead…
"The economic collapse made it absolutely clear that something had gone terribly wrong in America's financial sector. It was much less clear what the problem was. Most of the demands of Occupy Wall Street had nothing to do with Wall Street. The person on the street couldn't tell you how finance worked, much less how to fix it. In ONE STEP AHEAD, Spangler steps into the breach, offering a brief, readable explanation of how private equity and hedge funds operate and what purpose they serve in the economy, and evaluating how they might be improved." - Robert VerBruggen, National Review




"Hedge funds are being punished, and private equity is getting abuse, for things they did not do - merely because the politicians do not understand them. ONE STEP AHEAD explains in simple language what hedge funds and private equity are all about - and why they should be left alone to manage wealth and create wider prosperity." - Eamonn Butler, Director, Adam Smith Institute




"A lucid, inside account of how hedge and private equity funds work and their economic and social utility, with wider reflections upon the context of the political economy. A demystifying read for the intelligent layman." - Dr Iris H Chiu, University College London, Faculty of Law




"With its balanced and informed perspective, ONE STEP AHEAD proves that you do not need to be a financial whiz in order to understand how alternative investment funds work, what role they play in the financial markets and whether they are good, bad or indifferent. A must read for those who want to cut through the hype and get to the real issues." - Andrew Godwin, Director of Banking and Finance, University of Melbourne School of Law



"When so much of the debate around our financial system is clouded in misunderstanding, it is refreshing to read such an engaging and accessible account as ONE STEP AHEAD. By setting out the facts clearly and cleanly, Timothy Spangler goes beyond the jargon and the headlines to give readers an accurate portrayal of the role of private equity and hedge funds in modern capitalism." - Mark Florman, Chief Executive Officer, British Private Equity and Venture Capital Association (BVCA)


"Finally a book that sheds a knowledgeable light on the private equity and hedge fund worlds. Long demonized by the media, Timothy Spangler has humanized these often secretive industry sectors all the while revealing just how essential they are for nursing sick companies back to health and bringing rationality to markets. If we didn't have private equity funds and hedge funds, we'd have to invent them. Thanks to Spangler for making this more apparent in a very readable way." - John Tamny, editor of Forbes Opinions and RealClearMarkets.com


"Timothy Spangler gives us a very readable introduction to the nuances of international finance and its key personalities. If you think you don't have a stake in this world; think again. Anyone with a pension plan should pay attention since it's your money these people are gambling with." - Roger Farmer, Department of Economic, University of California Los Angeles


"ONE STEP AHEAD opens up the opaque world of hedge and private equity funds with precision in an accessible way for the nonspecialist. Complex technical issues are conveyed concisely but never over- simplified. The dialogue opens up the dry world of financial regulation acknowledging concerns mounted toward hedge funds and private equity funds since the financial crisis to present a balanced view of how private equity and hedge funds add value to the financial system. Timothy Spangler's ONE STEP AHEAD offers useful insight into how best to ensure that society, and ultimately taxpayers, gain the most from hedge fund and private equity activities by the rules set up and policed by the regulatory authorities. A fascinating read and some suprising, sometimes shocking, conclusions." - Giles Adu, Managing Partner, Brook Street Partners


"ONE STEP AHEAD expertly combines an insider's understanding of behind-closed-doors industry dynamics with an everyman's ability to tell the story in a way that a Main Street reader will understand and appreciate. By focussing on the 'pointy end' of modern capitalism, Spangler tells a tale that is relevant and educational to us all." - Robert Diamond, Fernbrook Partners