Armies of the United States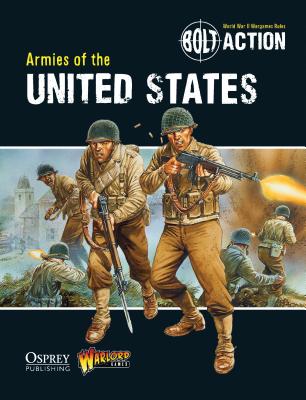 Armies of the United States
Osprey Publishing (UK), Paperback, 9781780960876, 80pp.
Publication Date: January 22, 2013
* Individual store prices may vary.
Buy at Local Store
Enter your zip code below to purchase from an indie close to you.
or
Buy Here
Description
With this latest supplement for Bolt Action, players now have all the information they need to field the varied military forces of the United States of America. Entering the war after the attack on Pearl Harbor, the United States immediately went to war on several fronts. In Europe and Africa, the Americans battled against the Germans and Italians, while in the Pacific the soldiers of the Army and Marines faced the forces of Imperial Japan. This book allows players to choose from dozens of different troop types including Sherman tanks, Marine raiders, and paratroopers, and build a US force to fight in any theatre of the war.
About the Author
Warlord Games is one of the foremost producers of historical miniatures in England. Their line of 28mm plastic wargaming figures is considered the industry gold standard and Bolt Action is the first ruleset to formally utilize those soldiers for a Warlord-branded wargame.
Praise For Armies of the United States…
"Armies of the United Statesis more than just a book of army lists, far more. Almost every page features several full-color photographs of some excellent WWII miniatures — figures, armament, vehicles, tanks, etc. are all here. There are also several excellent dioramas and vignettes which give the gamers some interesting 'eye candy' to help them with setting up their own gaming tables. Author Massimo Torriani and a team of gamers, painters, historians, researchers, playtesters, and other support staff have collaborated in creating a book that has much wider appeal than just the folks who use the Bolt Action rules. General WWII gamers will appreciate the army lists and composition and the background information on the equipment, artillery, tanks, and vehicles. WWII buffs will find much of value in here as well."
- Scott L. Mingus, CHARGE! Civil War Wargaming

"This book contains all of the background, rules and Army List information needed to field a U.S. Army in the Bolt Action game. It features details of organization and equipment covering American forces from the beginning of their development in World War II. The book allows players to choose from dozens of different troop types, including Sherman tanks, Marine raiders and paratroopers."
- Model Retailer (May 2013)

"lavishly illustrated with color illustrations and fantastic photos of military miniatures. It is designed to equip wargamers to choose from dozens of troop types to campaign in any theater of the war. Everything from Army infantry and paratrooper to Marine raiders, artillery and Sherman tanks are detailed." --Toy Soldier & Model Figure Magazine

"...provides a fine suplpement to Bolt Action for players of the war game and provides all the information needed on the military forces of the US. Players can choose from different troop types, from tanks to Marine raiders, and can build a US force to fight in virtually any war scenario using this all-encompassing guide. Army lists and theater selectors accompany color photos, detailed rules, and team specifics, making this a powerful wargamer's reference."
--The Midwest Book Review (April 2013)