Napoleonic Light Cavalry Tactics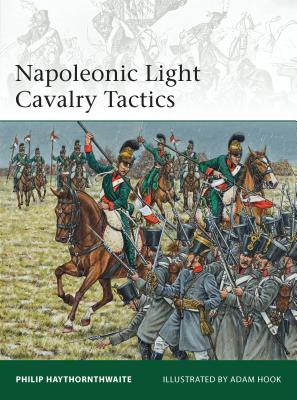 Napoleonic Light Cavalry Tactics
Osprey Publishing (UK), Paperback, 9781780961026, 64pp.
Publication Date: December 24, 2013
* Individual store prices may vary.
Buy Now
or
Shop Local
Enter your zip code below to purchase from an indie close to you.
Description
During the Napoleonic Wars, all the major combatants fielded large numbers of light cavalry as Hussars, Dragoons, Chasseurs, Lancers, or even Cossacks. Ridley Scott's 1977 feature film debut The Duelists portrayed French Hussars. Light cavalry provided nimble, fast-moving regiments that performed a variety of vital roles, from reconnaissance and keeping contact with the enemy during the movement of armies, to raiding, skirmishing, and the pursuit to destruction of beaten enemies. In practice, light cavalry were often also employed for battlefield charges alongside the heavy cavalry.
The light cavalryman typically carried a curved sabre, one or two pistols and sometimes a carbine, and rode a smaller horse than his counterpart in the heavy cavalry. As the Napoleonic Wars progressed, the dashing Chasseurs and Light Dragoons and glamorous Hussars were joined by growing numbers of Lancers, while the Russians employed vast numbers of Cossacks. Often the first to engage the enemy, these colourful regiments saw combat on a host of bloody battlefields across Europe.
Featuring period illustrations and specially commissioned colour artwork, this is the second volume of a two-part study of the cavalry tactics of the armies of Napoleon and those of his allies and opponents. Written by a leading authority on the period, it draws upon drill manuals and later writings to offer a vivid assessment of how light cavalry actually fought on the Napoleonic battlefield.
About the Author


Adam Hook studied graphic design, and began his work as an illustrator in 1983. He specializes in detailed historical reconstructions, and has illustrated Osprey titles on subjects as diverse as the Aztecs, the Ancient Greeks, Roman battle tactics, several 19th-century American subjects, the modern Chinese Army, and a number of books in the Fortress series. His work features in exhibitions and publications throughout the world.