British Battleships 1914-18 (1)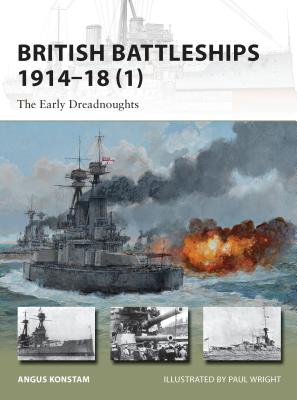 British Battleships 1914-18 (1)
The Early Dreadnoughts
Osprey Publishing (UK), Paperback, 9781780961675, 48pp.
Publication Date: May 21, 2013
* Individual store prices may vary.
Buy at Local Store
Enter your zip code below to purchase from an indie close to you.
or
Not Currently Available for Direct Purchase
Description
The launch of HMS Dreadnought in 1906 changed the face of naval warfare. This revolutionary new battleship was in a league of her own, capable of taking on any two "pre-dreadnought" battleships in a straight fight. A naval arms race followed between Britain and Germany, as both countries hurriedly built a fleet of these powerful new warships. This race led inexorably to the outbreak of a world war. During World War I these dreadnoughts formed the backbone of the British Grand Fleet. In May 1916, these battleships put to sea to intercept their counterparts in the German High Seas fleet. The result was the battle of Jutland, a bruising high-stakes encounter where the design and construction of Britain's revolutionary new battleships was put to the test. The first half-dozen dreadnoughts were all improvements of the basic Dreadnought design, all carrying ten 12-inch guns. It was only in 1911, with the launch of HMS Neptune that the layout of this powerful armament was altered as a result of practical experience. Two more versions of the Neptune entered service later that same year. These nine improved dreadnoughts formed the core of the British High Seas Fleet. They would soon, however, be outclassed by a new breed of "super dreadnoughts," the subject of the second volume in this two-part story. While these new battleships carried larger 13.5-inch guns, they proved less successful as all-round battleships than their more lightly-armed predecessors. Naval architects were slowly learning that with modern battleships, design involved a compromise between firepower, protection and speed. One last 12-inch gun dreadnought entered service in 1914, when a seven turret battleship being built for the Turks was commandeered by the Royal Navy, and re-named HMS Agincourt. This New Vanguard title, the first of two covering these famous warships will uncover the full story of the British battleships of World War I. The book will look at their revolutionary design, the 12-inch guns that provided them with their firepower, and the way these guns were fired in anger.
About the Author
With over 50 history books in print, Angus is a widely recognised and much-published historian. While he specialises in military and naval history he has also written numerous more general history books, designed to make the subject more accessible to a wider audience. Uniquely he has been able to draw on his expertise as a senior museum curator who has worked on both sides of the Atlantic, as well as on his academic training as a historian and as a maritime archaeologist. His latest book is a full-length biography: Blackbeard: America's Most Notorious Pirate, which is published by Wiley & Sons. of New York (June 2006) Angus is also just finished writing a history of the Allied landings at Salerno in September 1943 for the British publisher Pen & Sword, and he is currently working on a new project, with the working title of Supership: The Quest for the Renaissance Battleship. Angus lives in Edinburgh, in Scotland.

Paul M. Wright OCP has 14 years experience of Securing Oracle within the World's leading technology and financial institutions. Paul has been credited six times by the Oracle Security Patch for ethically reporting original security improvements he has discovered. Paul instructed Oracle Security for SANS.org in 2007 and has since published and presented for IOUG/UKOUG. Paul published the first book on database forensics and led the CIS 11g standard policy update. Paul's interests have expanded to include integration, availability and performance aspects and specifically how to optimise these whilst maintaining risk at acceptable levels. Paul's role as Lead Security person for the 12c Beta since March 2012 has focused new work onto securely achieving consolidation, which is the focus of his latest book for Apress.
Praise For British Battleships 1914-18 (1)…
"In this book, Angus Konstam takes a look at what led up to the building program before the war as well as a description of each of the various classes of ship. Full specs on each class are provided as well as their wartime use and any modifications done. There is also a section on the weapons used and a most interesting one on gunnery of the time. This is superbly illustrated with a selection of period photos of these ships as well as the equally excellent art work or illustrator Paul Wright, who has ably illustrated several naval books. This includes a series of full color profiles. It is everything that makes the New Vanguard series one of my favorite from Osprey and a book I can easily recommend to you."
- Scott Van Aken, www.modelingmadness.com (June 2013)