British Battleships 1914-18 (2)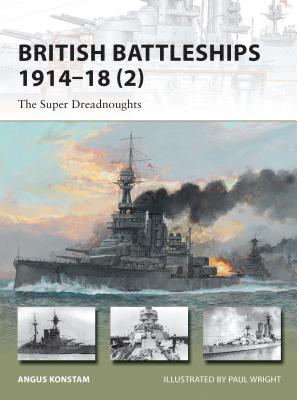 British Battleships 1914-18 (2)
The Super Dreadnoughts
Osprey Publishing (UK), Paperback, 9781780961705, 48pp.
Publication Date: December 24, 2013
* Individual store prices may vary.
Buy Now
or
Shop Local
Enter your zip code below to purchase from an indie close to you.
Description
The Royal Navy's Grand Fleet dominance at Jutland in World War I centered around big-gun battleships designed to overpower Germany's High Seas Fleet.
In 1906, the Germans began building a dreadnought fleet of their own, and while they used a smaller main gun than the British, word soon reached the British Admiralty that German designers were planning to build a new class of dreadnoughts, armed with larger guns. This raised the spectre that the British dreadnought fleet would be outgunned, and prompted the Admiralty to order the building of their own "super dreadnoughts." The first of these new dreadnoughts were laid down in 1909, and entered service three years later. The British public supported this programme, and the slogan "we want eight and cannot wait" became popular, a reference to the building of eight of these super dreadnoughts. These first eight were augmented by the Erin and the Canada, both of which were being built for foreign navies until commandeered by the Admiralty. Four more super dreadnoughts entered service in 1914. By then the Admiralty had developed a new programme of "fast battleships," armed with 15-inch guns. These powerful warships entered service in time to play a part in the battle of Jutland in 1916. World War I broke out before the Royal Navy had fully evaluated these new warships, and so lessons had to be learned through experience - often the hard way. Although none of these super dreadnoughts were lost in battle, their performance at the battle of Jutland led to a re-evaluation of the way they were operated. Still, for four years they denied control of the sea to the enemy, and so played a major part in the final collapse of Imperial Germany. This New Vanguard title, the second of two covering the British battleships of World War I will continue the story begun in the first volume by taking a detailed look at the later battleships in the fleet - the "super dreadnoughts.
About the Author
ANGUS KONSTAM is a widely published and respected military and naval historian, with numerous books to his credit. A former Royal Naval officer, maritime archaeologist and museum curator, he holds degrees from three universities, including a Masters degree from St. Andrews. Before that he studied Scottish Medieval history in Aberdeen University. He is the author of several major books, including Historical Atlas of the Medieval World, Historical Atlas of the Crusades, books about pirates, Renaissance ships and the Scottish soldier. He has given numerous public lectures in Britain, as well as in Europe and North America, and his work has been translated into several languages.He is frequently interviewed by the press in his capacity as a maritime historian, and has appeared live on both television and radio. He also made frequent appearances in television documentaries screened by the BBC and ITV, as well as the History and Discovery Channels.1.

Paul M. Wright OCP has 14 years experience of Securing Oracle within the World's leading technology and financial institutions. Paul has been credited six times by the Oracle Security Patch for ethically reporting original security improvements he has discovered. Paul instructed Oracle Security for SANS.org in 2007 and has since published and presented for IOUG/UKOUG. Paul published the first book on database forensics and led the CIS 11g standard policy update. Paul's interests have expanded to include integration, availability and performance aspects and specifically how to optimise these whilst maintaining risk at acceptable levels. Paul's role as Lead Security person for the 12c Beta since March 2012 has focused new work onto securely achieving consolidation, which is the focus of his latest book for Apress.