Fe 2b/D Vs Albatros Scouts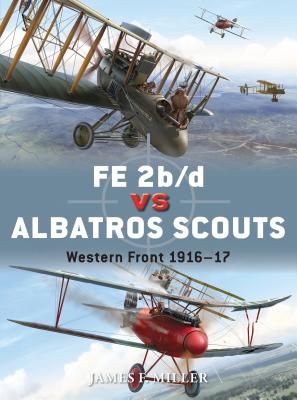 Fe 2b/D Vs Albatros Scouts
Western Front 1916-17
Osprey Publishing (UK), Paperback, 9781780963259, 80pp.
Publication Date: January 21, 2014
* Individual store prices may vary.
Buy Now
or
Shop Local
Enter your zip code below to purchase from an indie close to you.
Description
World War I aerial combat went through periods of alternating aerial superiority based on technology leaps. Sopwith Camels, Fokkers, and Spads became famous because they dominated later in the war, but this was an ongoing cycle for years.
In the spring of 1916 the deployment of the RFC's FE 2 - with its rotary engine 'pusher' configuration affording excellent visibility for its pilot and observer, and removing the need for synchronized machine guns - helped wrest aerial dominance from Imperial Germany's Fokker Eindecker monoplanes, and then contributed to retaining it throughout the Somme battles of that fateful summer. However, by autumn German reorganization saw the birth of the Jagdstaffeln (specialised fighter squadrons) and the arrival of the new Albatros D scout, a sleek inline-engined machine built for speed and twin-gun firepower. Thus, for the remainder of 1916 and well into the next year an epic struggle for aerial superiority raged above the horrors of the Somme and Passchendaele battlefields, pitting the FE 2 against the better-armed and faster Albatros scouts that were focused on attacking and destroying their two-seater opponents. In the end the Germans would regain air superiority, and hold it into the following summer with the employment of their new Jagdgeschwader (larger fighter groupings), but the FE 2 remained a tenacious foe that inflicted many casualties - some of whom were Germany's best aces (including 'The Red Baron').
About the Author
James C. Miller. Ph.D., is one of the world's leading experts in the science of fatigue. Now a recreational pilot, he flew a fighter plane in the Vietnam War.

Jim Laurier is a native of New England and lives in New Hampshire. He attended Paier School of Art in Hamden, Connecticut, from 1974 78, and since graduating with Honours, he has been working professionally in the field of Fine Art and Illustration. He has been commissioned to paint for the US Air Force and has aviation paintings on permanent display at the Pentagon.