Mutants in Mega-City One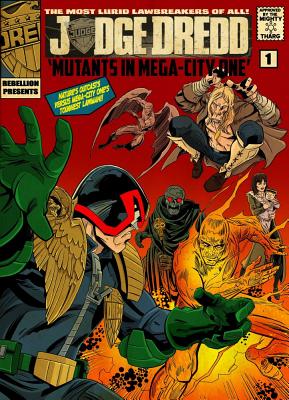 Mutants in Mega-City One
2000 AD, Paperback, 9781781081679, 224pp.
Publication Date: December 10, 2013
* Individual store prices may vary.
Buy at Local Store
Enter your zip code below to purchase from an indie close to you.
or
Buy Here
Description
This action-packed collection features classic encounters between Judge Dredd and mutantkind!
MUTIES OUT!
The great Atomic Wars of 2070 created a population of mutants who, due in part to their bizarre (and in most cases grotesque) deformities, have been denied citizenship in Mega-City One.
Rejected by the prejudiced 'norms' and forcibly kept away from the city by the Judges, the mutants have had no choice but to live in the vast, radioactive wasteland known as the 'Cursed Earth'. Harboring resentment and hatred against those that have exiled them, bands of mutants now prey on those that stray from behind the city walls – and sometimes even launch all-out attacks in a bid to gain entry to the Big Meg!
This action-packed collection features classic encounters between Judge Dredd and mutantkind!

Writers – John Wagner, Alan Grant, Al Ewing, Michael Carroll
Artists – Carlos Ezquerra, John Higgins, Will Simpson, Chris Weston, Duncan Fegredo, Colin McNeil, Simon Fraser, Ian Gibson, John Burns, John Ridgway, Paul Marshall & Bryan Talbot.

Features the never-before reprinted bonus story, Feed Me by Warren Ellis and Sean Phillips
About the Author
John Wagner is, to many fans, the very heart of 2000 AD. Involved from the earliest days of the "Galaxy's Greatest Comic," he co-created Judge Dredd, as well as a host of other series, including the critically-acclaimed Button Man. Incredibly prolific throughout his career, and writing under a diversity of pen names -- often in concert with Alan Grant, with whom he devised and developed 2000 AD's sister comic, the Judge Dredd Megazine -- Wagner has worked extensively beyond 2000 AD, originating, writing many American standards, including Batman, The Punisher, Lobo and Star Wars bounty hunter Boba Fett. His graphic novel A History of Violence was made into a hit film. Spanish artist Carlos Ezquerra is the co-creator of Judge Dredd, and has a legendary career in comcis behind him, having co-created many of 2000 AD's most iconic characters including "Strontium Dog" and "Durham Red".
Alan Grant co-wrote many of the classic 80's Judge Dredd strips as John Wagner's writing partner, before solo work on Judge Anderson and a celebrated run on Batman, among many others.
Al Ewing is a massively talented young writer whose work for "2000 AD" has seen him hailed as a major voice in the field, bringing both fresh characters, a keen sense of comedy and a startling inventiveness to the comics scene. The Zaucer of Zilk, 2000 AD/idw was acclaimed as one of the best comics of 2012, and his 2013 projects are sure to lift him even higher.
Henry Flint is one of the 2000 AD's superstars. Co-creater of "Sancho Panzera" and "Shakara, "his incredibly versatile pencils have also graced "A.B.C Warriors, Judge Dredd/ Aliens, Bill Savage, Deadlock Judge Dredd, Rogue Tropper, Missionary Man, Nemesis the Warlock, Nikolai Dante, Sinister Dexter, Tharg the Mighty, The V.C.'s Vector 13 "and" Venus Bluegenes. "He has even written a "Tharg's Alien Invasions" strip! He has also begun to establish himself in American comics. In 2004 Flint was recipient of the award for best artist at the National Comic Awards.