The Wrong Quarry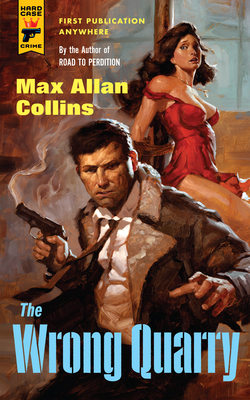 The Wrong Quarry
Hard Case Crime, Paperback, 9781781162668, 221pp.
Publication Date: January 7, 2014
* Individual store prices may vary.
Shop Local
Enter your zip code below to find indies closest to you.
Description
A HIT. AND A MISS.
Quarry doesn't kill just anybody these days. He restricts himself to targeting other hitmen, availing his marked-for-death clients of two services: eliminating the killers sent after them, and finding out who hired them...and then removing that problem as well.
So far he's rid of the world of nobody who would be missed. But this time he finds himself zeroing in on the grieving family of a missing cheerleader. Does the hitman's hitman have the wrong quarry in his sights?
About the Author
Max Allan Collins is the New York Times best-selling author of Road to Perdition and multiple award-winning novels, screenplays, comic books, comic strips, trading cards, short stories, movie novelizations, and historical fiction. He has scripted the Dick Tracy comic strip, Batman comic books, and written tie-in novels based on the CSI, Bones, and Dark Angel TV series; collaborated with legendary mystery author Mickey Spillane; and authored numerous mystery series including Quarry, Nolan, Mallory, Eliot Ness, and the bestselling Nathan Heller historical thrillers. His additional Disaster series mystery novels include The Titanic Murders, The Hindenburg Murders, The Pearl Harbor Murders, The Lusitania Murders, and The London Blitz Murders.
Praise For The Wrong Quarry…
"Collins' forte is in writing crime novels set in period, and The Wrong Quarry captures the early eighties scene beautifully." - Blogcritics

"Highest possible recommendation!" – I Love a Mystery

"Very tough and cool and with a pleasantly nasty sense of humor." - Comic Book Resources

"Quarry is a classic hardboiled character: tough, smart, and dangerous. The plot was lean and hard and the character wry and charming. Collins is a worthy successor to Raymond Chandler and Mickey Spillane, and Quarry may be his best character. I enjoyed this book enough that I plan on tracking down the other Quarry novels, so obviously this is highly recommended." - Fandom Post 

"The perfect jumping point for all newcomers and I wholeheartedly recommend it to anyone looking for some intelligent hard boiled detective fun." - Upcoming4.me

"Pulp fiction fans won't be able to put their hands down on this new Quarry novel as it revolves around gritty action, hard-boiled violence and hot sex." - Retrenders

"Fast-paced and full of sex and murder. Think Twin Peaks without the supernatural." - Super Punch

"This book has a little bit of everything including mystery, suspense and sex." - Examiner

"If you are a fan of gritty, hard boiled storytelling that shows a bit of heart……and every other organ in the human body, you might want to give The Wrong Quarry a try." - Geek Hard

"Written very well." - Project Fandom

"Kept me reading from page one straight till the end...a fun and twisty journey, full of great sights and meticulous detail." - Nerd Span

"Quarry is an excellent addition to the catalog of hard-boiled (anti-)heroes. His exploits are different enough to bring a refreshing uniqueness to the genre without upending it entirely, and are written in such a way as to pack maximum entertainment into a fast-paced page-turner of a read." - Criminal Element

"The Wrong Quarry is a great blend of suspense, sex, and sensation that will keep you engaged and intrigued until it's surprising conclusion." - Geek Nutz

"Hard-edged storytelling at its best" - Awkward Geeks

"The dry wit and action throughout makes for an entertaining read and leaves you wanting more." - The Celebrity Cafe

"Pure entertainment for fans of old-school, hard-boiled prose." - Booklist