Boy 30529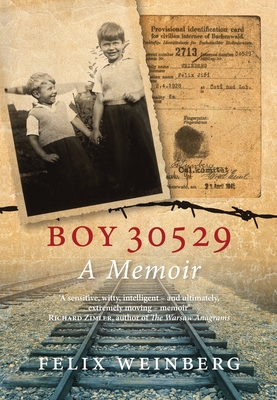 Boy 30529
A Memoir
Verso, Hardcover, 9781781680780, 168pp.
Publication Date: April 9, 2013
* Individual store prices may vary.
Not Currently Available for Direct Purchase
or
Shop Local
Enter your zip code below to purchase from an indie close to you.
Description
""Anyone who survived the exterminations camps must have an untypical story to tell. The typical camp story of the millions ended in death ... We, the few who survived the war and the majority who perished in the camps, did not use and would not have understood terms such as 'holocaust' or 'death march.' These were coined later, by outsiders.""
In 1939 twelve-year-old Felix Weinberg fell into the hands of the Nazis. Imprisoned for most of his teenage life, Felix survived five concentration camps, including Terezin, Auschwitz, and Birkenau, barely surviving the Death March from Blechhammer in 1945. After losing his mother and brother in the camps, he was liberated at Buchenwald and eventually reunited at seventeen with his father in Britain, where they built a new life together. Boy 30529 is an extraordinary memoir of the Holocaust, as well as a moving meditation on the nature of memory.
About the Author
Felix Weinberg came to Britain after the war and lived with his father. Despite his formal education having been cut short at age twelve, he won a place at university and later become the first professor of Combustion Physics at Imperial College London. He was the author or editor of four books and more than 220 scientific papers. Internationally acknowledged as a leading thinker in his field, he was awarded several awards throughout his lifetime, including the Hugh Edwards Lifetime Achievement Award for contributions to Combustion Physics. He died in December 2012.
Praise For Boy 30529…
'Moving – and genuine' —Daily Mail

"An unusually good-natured memoir about life in the Nazi camps and the travails of being a postwar refugee. Weinberg ... has a quick, curious mind...A revelation ... told with both candor and odd innocence."—Kirkus Reviews

"Told with an honest, contemporary, sometimes wry viewpoint, Weinberg's graphic memories are haunting, as he searches the Web and historical archives to find out now what he did not know then, while it was happening to him: where he was marching, how many died. The dual perspective, then and now, and the blend of family intimacy (including occasional photos) with the gripping, authoritative historical overview make this an essential title for discussion."—Booklist

"All those who care about the proper documenting of this horrendous era must be grateful to Felix Weinberg for giving us this insightful and ultimately uplifting account."—Suzanne Bardgett, Imperial War Museum

"A very witty and highly readable account of life in Nazi camps, with truly original information and an amazing sense of humour. A great lesson in resilience, survival, hope—and genuine modesty."—Gilbert Achcar, The Arabs and the Holocaust

"A sensitive, witty, intelligent—and ultimately, extremely moving—memoir."—Richard Zimler, author of The Warsaw Anagrams

"Felix Weinberg's memoir stands out from other Holocaust memoirs in its accomplished style, its powers of exact recollection and depiction and in its dry humour."—Professor Charmian Brinson, author of The Strange Case of Dora Fabian and Mathilde Wurm


"With a detachment that makes the telling all the more powerful, Felix Weinberg has given witness to what he saw and experienced through the terror, misery and absurdity of his teenage years. This was, he explains, at first a gift to his family, and this intimacy without sentimentality draws us in to the loss at the heart of the book. It was also a history he had suppressed, and as Weinberg tells it, he explains that it's strange and painful to document it for the first time. He revisits the suddenness of round-ups, random killings, separations, forced labour and marches. This reminded me that the war against the Jews was above all else a war against our physical presence in Europe which this book replies to simply by having been written. Beyond that though, is the reply of a boy who escaped annihilation and found that by staying alive he could think, study, research and eventually teach at the highest level. In the face of genocide on any people, anywhere at any time, the book is the ultimate response: that we exist and have the right to exist. I wasn't only moved by it. I was strengthened by it."—Michael Rosen, author, poet