Yellow Peril!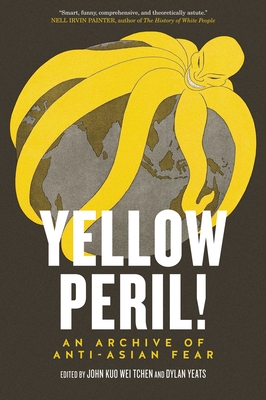 Yellow Peril!
An Archive of Anti-Asian Fear
Verso, Paperback, 9781781681237, 384pp.
Publication Date: February 11, 2014
* Individual store prices may vary.
Buy at Local Store
Enter your zip code below to purchase from an indie close to you.
or
Not Currently Available for Direct Purchase
Description
The "yellow peril" is one of the most long-standing and pervasive racist ideas in Western culture indeed, this book traces its history to the Enlightenment era. Yet while Fu Manchu evokes a fading historical memory, yellow peril ideology persists, animating, for example, campaign commercials from the 2012 presidential election. "Yellow Peril " is the first comprehensive repository of anti-Asian images and writing, pop culture artifacts and political polemic.
Written by two leading scholars and replete with paintings, photographs and images drawn from dime novels, posters, comics, theatrical productions, movies, polemical and pseudo-scholarly literature, and other pop culture ephemera, this book is both a unique and fascinating archive and a modern analysis of this crucial historical formation.
About the Author
John Kuo Wei Tchen, author of "Genthe's Photographs of San Francisco's Old Chinatown" (1984), is cofounder and historian of the New York Chinatown History Project.


Praise For Yellow Peril!…
"A kaleidoscopic study rich in historical depth, topical breadth, and critical rigor."
John Dower, author of Embracing Defeat: Japan in the Wake of World War II

"A comprehensive archive of the underbelly of anxiety and hatred. As the US economy suffers from acute indigestion, 'China,' like 'Japan' before it, will provide a dishonest salve. Close attention to the history of the 'yellow peril' will protect the good-minded from falling deep into the well of its virulence."
Vijay Prashad, author of The Poorer Nations: A Possible History of the Global South

"This brilliant, well-documented book provides much-needed historical perspectives on oriental-phobia, and other racist and racial ways of thinking."
Jack G. Shaheen, author of Reel Bad Arabs: How Hollywood Vilifies a People

"An exhaustive but not exhausting set of readings."
Sander L. Gilman, author of Smart Jews and Fat: A Cultural History of Obesity

"In this illuminating book, Tchen and Yeats address the political and cultural legacy of yellow perilism, that set of beliefs and practices stemming from a long tradition of othering, identity formation, and binary divisions of "the West" and "the East."...What emerges is a compelling case that cultural and political change is needed, and that change is possible only through "historical recognition," which, Tchen and Yeats say, leads to "reckoning and action.""– Publishers Weekly