The New Way of the World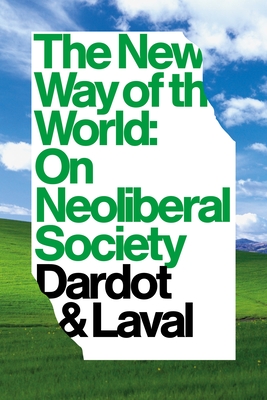 The New Way of the World
On Neo-Liberal Society
Verso, Hardcover, 9781781681763, 337pp.
Publication Date: February 4, 2014
* Individual store prices may vary.
Shop Local
Enter your zip code below to find indies closest to you.
Description
What is new about neoliberalism? Pierre Dardot and Christian Laval contend that it is more than just a new economic paradigm — it is a system for transforming the human subject. Rather than a return to classic liberalism, or the restoration of a 'pure', unconstrained market, neoliberalism envisages the modern corporation as a model for government, conjuring a future in which society is nothing other than a web of market-based relations.

Cutting through contemporary misunderstandings about its genesis and prevalence, Dardot and Laval distil neoliberalism to its core meaning and examine how it might be challenged on new political and intellectual terms.
About the Author


Roland Gori est l'un des initiateurs de l'Appel des appels. Psychanalyste, membre de l'Espace analytique, il est professeur de psychologie et de psychopathologie clinique a l'universite d'Aix-Marseille.

Gregory Elliott is a member of the editorial collective of Radical Philosophy and author of Althusser: The Detour of Theory and Labourism and the English Genius: The Strange Decay of Labour England?.
Praise For The New Way of the World…
"The New Way of the World is the best modern realization of Foucault's pioneering approach to the history of neoliberalism. It wonderfully explores the European roots and branches of the neoliberal thought collective over the twentieth century, and warns that unthinking misrepresentations of its
political project as espousing 'laissezfaire' has had the effect of allowing the Left to submit to its siren song. Philip Mirowski, author of Science-Mart and Never Let a Serious Crisis go to Waste

"To understand these debates [on neoliberalism], the book by Christian Laval and Pierre Dardot on the 'neoliberal society' offers us analytical keys. This monument of scholarship draws on the history of ideas, philosophy and sociology." —Le Monde

"Extremely scholarly, this book is an insistent invitation to push theoretical and social critique of the present order beyond the standard analyses." —Le Monde diplomatique