Utopia or Bust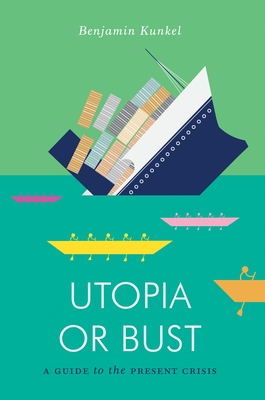 Utopia or Bust
A Guide to the Present Crisis
Verso, Paperback, 9781781683279, 180pp.
Publication Date: March 11, 2014
* Individual store prices may vary.
Buy at Local Store
Enter your zip code below to purchase from an indie close to you.
or
Buy Here
Description
After the financial crashand the great recession, the media rediscoveredKarl Marx, socialisttheory, and the very ideathat capitalism can be questioned.
But in spite of the publicity, the main paths of contemporarycritical thought have gone unexplored
outside of the academy. Benjamin Kunkel's Utopia orBust leads readers whether politically committedor simply curious through the most important criticaltheory today. Written with the wit and verve ofKunkel's best-selling novel, "Indecision," this introductionto contemporary Leftist thinkers engages withthe revolutionary philosophy of Slavoj i ek, the economicanalyses of David Graeber and David Harvey, and the cultural diagnoses of Fredric Jameson.
Discussing the ongoing crisis of capitalism in light ofideas of full employment, debt forgiveness, and fictitiouscapital, Utopia or Bust is a tour through theworld of Marxist thought and an examination of thebasis of Western society today.
About the Author
Benjamin Kunkel is the bestselling author of "Indecision" and a co-founder of "n+1." His writing has appeared in the "New York Times," the "New Yorker," the "New York Review of Books" and the "London Review of Books."
Praise For Utopia or Bust…
"Benjamin Kunkel has pursued a lonely and taxing crash course in Marxist thought, the results of which, set forth here, are nimble, clear, and brave. He dedicates the book to anyone who can use it, which I'll take a step further: it's for anyone who cares about historical necessity,
the crisis of capitalism, and our fate." Rachel Kushner, author of The Flamethrowers

"Playful and unfailingly lucid...the book is one of the most enjoyable pieces of Marxist criticism in many years." The Nation

"It's wonderful to see Benjamin Kunkel turn his considerable talents from the business of novelwriting to these political essays—models of the genre, with plenty to offer to both newcomers to and veterans of radical thought." Doug Henwood, Left Business Observer

"From Boris Groys to Slavoj Zizek, Kunkel translates tricky questions of economics, culture, and politics into easy-to-understand prose that distil the problems not only with American capitalism, but capitalism in general" Publishers Weekly

"Benjamin Kunkel, aside from having mastered the voice of bemused neuroticism in Indecision, has one of the most interesting minds around." The Millions

"Those looking for alternatives, explanations, and a critical map of where Leftist thought stands in our current neoliberal age will find Utopia or Bust a must-read." Mike Konczal, finance commentator and Fellow at the Roosevelt Institute