Hong Kong 1941-45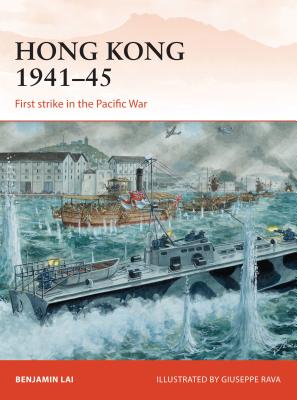 Hong Kong 1941-45
First Strike in the Pacific War
Osprey Publishing (UK), Paperback, 9781782002680, 96pp.
Publication Date: June 17, 2014
* Individual store prices may vary.
Buy at Local Store
Enter your zip code below to purchase from an indie close to you.
or
Buy Here
Description
On 8th December 1941, as part of the simultaneous combine attack against Pearl Harbor, the Imperial Japanese Army (IJA) invaded the Philippines, Thailand and Malaysia and the British colony of Hong Kong. After only 18 days of battle the defenders, a weak, undermanned brigade was overwhelmed by a superior force of two battle-harden IJA divisions. What makes the battle of Hong Kong was not the scale - just 14,000 defended the colony - but the intensity of this battle fought not only by the British Army, Navy and Air Force but also Canadians, Hong Kong's own defence force, the Indian Army as well as many civilians.
The campaign itself is characterized by a fierce land battle, with long artillery duals and as well as fast naval actions with intense actions at the Gin Drinkers Line as well as the battle of Wong Nai Chung Gap where a handful of defenders took on an entire Japanese regiment. Less known but equally important are individual valour such as CSM John Robert Osborne winning a posthumous VC, throwing himself over a Japanese grenade to save fellow combatants.
Capitulation by the defenders on 25 December 1941 marks the end of one battle and the beginning of another. A subject not significantly covered by Western historian is local resistance to Japanese occupation. Lead by the communist Chinese, many continued to fight the Japanese forming the Guangdong people's Anti-Japanese East River Guerrilla Detachment that by 1945 grew from 200 to a 6,000-strong force. The guerrillas rescued downed allied pilots, harassed the Japanese with bombing and assassinated traitors and collaborators. Those Allies POW that managed to escape to China continued the fight in a secretive new organization - the British Army Aid Group (BAAG).
As the war draw to a close, the question of reestablishing British control became a highly contentious diplomatic dual between China, USA and Britain, but with the death President of Roosevelt in 1945, decolonization lost its main champion and Britain was able to outmaneuver Chiang Kai Shek, the Chinese Generalissimo, and recover Hong Kong as a British Colony. After three years and eight months of Japanese occupation, Rear Admiral Sir Harcourt sailed into Hong Kong on board the cruiser HMS Swiftsure to reestablish control over the colony and accepted the formal surrender of Japan on 16 September 1945.
About the Author
Benjamin Lai was originally from Hong Kong, but educated in the UK. He was one of the few Chinese to serve in the British Army as a commissioned officer in the 1980s in both Hong Kong and the UK. Fully bilingual, Benjamin Lai has been interested in World War II and postwar matters for many years but in recent times has developed specialization in Asian military issues with an emphasis on China. Among his previous works are The Chinese People s Liberation Army Since 1949: Ground Forces, and Hong Kong 1941 1945.

Gordon L Rottman entered the US Army in 1967, volunteered for Special Forces and trained as a weapons specialist. He served in the 5th Special Forces Group in Vietnam in 1969-70 and in airborne infantry, patrol and intelligence. He was a special operations forces scenario writer at the Joint Readiness Training Center for 12 years and is now a freelance writer. The author lives in Cypress, Texas.
Ian Palmer is a highly experienced digital artist. A graduate in 3D design, he currently works as a senior artist for a leading UK games developer. Besides his artistic interests he is also a keen musician and motorcyclist. He lives in West London with his wife and three cats.
Born in Faenza in 1963, and from an early age taking an interest in all things military, Giuseppe Rava has established himself as a leading military history artist. Entirely self-taught, Giuseppe is inspired by the works of the great military artists, such as Detaille, Meissonier, Rochling, Lady Butler, Ottenfeld and Angus McBride. He lives and works in Italy.