World War I Trench Warfare (1)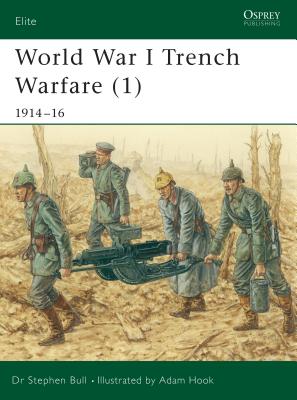 World War I Trench Warfare (1)
1914 16
Osprey Publishing (UK), Paperback, 9781841761978, 64pp.
Publication Date: February 25, 2002
* Individual store prices may vary.
Buy Now
or
Shop Local
Enter your zip code below to purchase from an indie close to you.
Description
Osprey's survey of trench warfare tactics of World War I (1914-1918). The regular armies which marched off to war in 1914 were composed of massed riflemen, screened by cavalry and supported by artillery; their leaders expected a quick and decisive outcome, achieved by sweeping manoeuvre, bold leadership and skill at arms. Eighteen months later the whole nature of field armies and their tactics had changed utterly. In sophisticated trench systems forming a battlefield a few miles wide and 400 miles long, conscript armies sheltered from massive long-range bombardment, wielding new weapons according to new tactical doctrines. This first of two richly illustrated studies explains in detail the specifics of that extraordinary transformation, complete with ten full colour plates of uniforms and equipment.
About the Author
Dr Stephen Bull is the Curator of the Museum of Lancashire in Preston, which incorporates the collections of several local regiments. Born in 1960, he graduated from the University of Wales with a BA (Hons) in history in 1981, and obtained his doctorate from University College, Swansea, with a study of English Civil War weapons. For several years from 1984 he worked at the National Army Museum, on a fortifications project and later in the Weapons Department. He has written numerous articles for specialist journals, including a number on the weapons and tactics of World War I. The author lives in Pr

Adam Hook studied graphic design, and began his work as an illustrator in 1983. He specializes in detailed historical reconstructions, and has illustrated Osprey titles on subjects as diverse as the Aztecs, the Ancient Greeks, Roman battle tactics, several 19th-century American subjects, the modern Chinese Army, and a number of books in the Fortress series. His work features in exhibitions and publications throughout the world.
Praise For World War I Trench Warfare (1)…
"I've never been disappointed by any of the Osprey Elite Series of books and I certainly wasn't with this one. It rekindled an area of history for me I've always enjoyed... Has this book turned me into a WWI expert? No, it hasn't. Has it increased my knowledge of the era and refreshed an aging mind? Yes. Would I recommend this book to someone else? Without a doubt or second though about it, especially if they have the slightest interest in World War I and wished to increase their knowledge a little more." -Dave O'Meara, Historicus Forma (June 2005)