World War I Trench Warfare (2)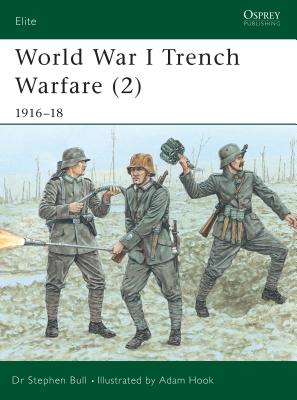 World War I Trench Warfare (2)
1916-18
Osprey Publishing (UK), Paperback, 9781841761985, 64pp.
Publication Date: June 2002
* Individual store prices may vary.
Buy Now
or
Shop Local
Enter your zip code below to purchase from an indie close to you.
Description
Osprey's examination of trench warfare tactics during World War I (1914-1918). The Allied attempt to break the stalemate of trench warfare by the 'big pushes' of 1916 led to massively costly battles of attrition. The Germans responded by developing schemes of defence in depth anchored on concrete bunkers; the Allies, by sophisticated artillery tactics in support of infantry assaults, and by the introduction of the tank - at first an accident-prone novelty, but later a front-breaking weapon. On both sides the small, self-reliant, opportunistic infantry unit, with its own specialist weapons, became the basic tool of attack. This second of a fascinating two-part study of the birth of 20th century tactics is illustrated in colour and includes rare photographs.
About the Author
Dr Stephen Bull is the Curator of the Museum of Lancashire in Preston, which incorporates the collections of several local regiments. Born in 1960, he graduated from the University of Wales with a BA (Hons) in history in 1981, and obtained his doctorate from University College, Swansea, with a study of English Civil War weapons. For several years from 1984 he worked at the National Army Museum, on a fortifications project and later in the Weapons Department. He has written numerous articles for specialist journals, including a number on the weapons and tactics of World War I. The author lives in Pr

Adam Hook studied graphic design, and began his work as an illustrator in 1983. He specializes in detailed historical reconstructions, and has illustrated Osprey titles on subjects as diverse as the Aztecs, the Ancient Greeks, Roman battle tactics, several 19th-century American subjects, the modern Chinese Army, and a number of books in the Fortress series. His work features in exhibitions and publications throughout the world.

Norman Franks is one of the world's leading authorities on World War 1 fighter aviation, having published some of the seminal works on the subject. This is his fourth volume on World War 1 aces for Osprey, having written volume 32 'Albatros Aces of World War I' and 33 'Nieuport Aces of World War I' in 2000 and co-authored volume 40 'Fokker Dr I Aces of World War I' in 2001.
Praise For World War I Trench Warfare (2)…
"Once again a winner in my opinion. No, it still hasn't made me an expert on World War I, but has increased the knowledge base a little in a simple, easy to understand format. Osprey is to be commended for their continued coverage of this neglected period. I highly recommend this to any figure modeler or painter with an interest in this time period, for a general overview, and some interesting figure/vignette ideas. For those interested in a more detailed study of various countries uniforms during WWI, be sure to see some of Ospreys other offerings." -Dave O'Meara, Historicus Forma (August 2005)