Confederate Artilleryman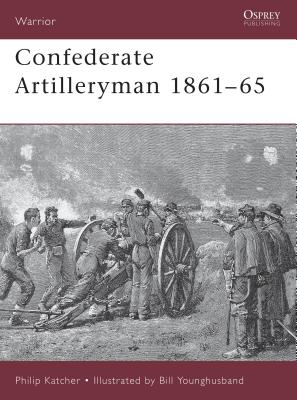 Confederate Artilleryman
1861-65
Osprey Publishing (UK), Paperback, 9781841763002, 64pp.
Publication Date: August 2001
* Individual store prices may vary.
Shop Local
Enter your zip code below to find indies closest to you.
Description
In the heady days of the rush to arms in 1861, comparatively few Southern men volunteered for service in the artillery: most preferred the easily accessible glory of the infantry or cavalry. Yet those that did, quickly earned the respect of their fellow soldiers, and a reputation for being able to "pull through deeper mud, ford deeper springs, shoot faster, swear louder ... than any other class of men in the service" during the American Civil War (1861-1865). Given that field artillery was invariably deployed in front of the troops that it was supporting, the artillerymen were exposed to a high level of enemy fire, and losses were significant. This title guides the reader through the life and experiences of the Confederate cannoneer - where he came from; how he trained and lived; how he dressed, ate and was equipped; and how he fought.
About the Author
Philip Katcher served in the U.S. Army in Vietnam. He is the author of over 30 books in the field of American military history, and was named a Fellow of the Company of Military Historians for his work on the Vietnam conflict. He is also a member of the living history Civil War unit, serving with Huckstep's First Fluvanna Battery/24th New York Light Artillery.

Younghusband was educated in Devon, UK, and has been interested in all things military since childhood. He is a respected illustrator for many years' experience, and has illustrated a wide range of Osprey books.