Siege Weapons of the Far East (2)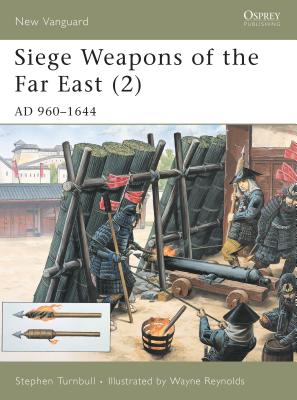 Siege Weapons of the Far East (2)
Ad 960 1644
Osprey Publishing (UK), Paperback, 9781841763408, 48pp.
Publication Date: January 25, 2002
* Individual store prices may vary.
Buy at Local Store
Enter your zip code below to purchase from an indie close to you.
or
Buy Here
Description
From the 11th century AD, East Asian armies made increasing use of exploding missiles and siege cannon to reduce the fortifications of their enemies. Some of these weapons were very similar to those used in Europe - for example, the heavy siege cannon used in the siege of P'yongyang during the Japanese invasion in the late 16th century. Others, like the Korean hwach'a carts mounting over a hundred rockets that were used to bombard the Japanese at Haengiu in 1593, were very different from their European contemporaries. This book details the design and use of the wide range of weaponry available during this period.
About the Author


STEPHEN TURNBULL is the author of over 50 books on the military history of Europe and the Far East. He works as a Japanese cultural consultant and is Lecturer in Japanese Religion at the Department of East Asian Studies at Leeds University. He served as the historical advisor for the Universal Pictures film "47 Ronin", starring Keanu Reeves.

Wayne Reynolds was born in Leeds, UK and attended art college in Middlesborough. He has had a life-long passion for illustration, and since 1991 has worked as a professional artist. Wayne has provided illustrations and source material for many gaming companies, creating figures, landscapes and interiors, as well as providing core characterisation. He is perhaps best known though for his work on titles such as '2000AD', 'Slaine', and 'Judge Dredd'. Wayne is also a keen modeller and historical re-enactor.