World War II German Women's Auxiliary Services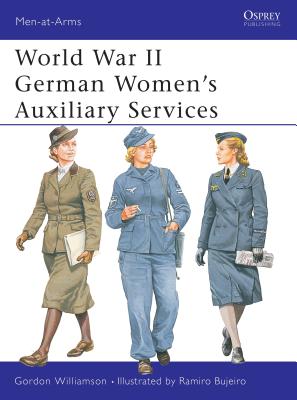 World War II German Women's Auxiliary Services
Osprey Publishing (UK), Paperback, 9781841764078, 48pp.
Publication Date: June 2003
* Individual store prices may vary.
Shop Local
Enter your zip code below to find indies closest to you.
Description
Under the Nazi regime, Hitler's conservative views on the place of housewives and mothers in society limited German women to a much less active role in World War II (1939-1945) than their British and Allied counterparts. Nevertheless, the demands of a prolonged war did see German women in a range of uniforms as auxiliaries with the Army, Navy, Air Force and SS, particularly in the signals and air defence services. This unique book explains and illustrates these organisations and their uniforms and insignia, as well as Red Cross nurses, and auxiliaries of the Labour Corps, Customs Service, National Socialist Women's Organisation, and League of German Maidens (Hitler Youth).
About the Author
Gordon Williamson was born in 1951 and currently works for the Scottish Land Register. He spent seven years with the Military Police TA and has published a number of books and articles on the decorations of the Third Reich and their winners. He is the author of a number of World War II titles for Osprey.

Leigh Neville is an Australian intelligence specialist who is currently studying for a degree in International Security. He has published a number of articles on the subject and has excellent contacts in the US, UK and Australian special forces. The author lives in New South Wales, Australia.
RAMIRO BUJEIRO has become a frequent and popular contributor to Osprey Military's book series since illustrating "Warrior 23, US Marine in Vietnam" (1998). He is an experienced commercial artist who lives and works in his native city of Buenos Aires, Argentina. His professional background includes many commissions as a figure illustrator and strip cartoonist for clients all over Europe and the Americas, including many years' work for IPC Magazines in Great Britain. His main interests are the political and military history of Europe in the first half of the 20th century.