American Defenses of Corregidor and Manila Bay 1898-1945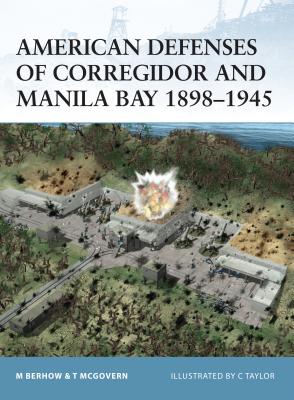 American Defenses of Corregidor and Manila Bay 1898-1945
Osprey Publishing (UK), Paperback, 9781841764276, 64pp.
Publication Date: February 2003
* Individual store prices may vary.
Shop Local
Enter your zip code below to find indies closest to you.
Description
The Philippines were declared an American Territory on January 4, 1899, and fortification construction soon began on the islands in the mouth of Manila Bay. Among the sites built were Fort Mills (Corregidor), Fort Frank, and the formidable "concrete battleship" of Fort Drum. The defenses suffered constant Japanese bombardment during World War II, leading to the surrender of American forces. In 1945 the forts were manned by Japanese soldiers determined to hold out to the bitter end. This title details the fortifications of this key strategic location, and considers both their effectiveness and historical importance.
About the Author
Mark A. Berhow has long had an interest in the history of American coastal and continental air defenses. He was worked at the Fort MacArthur Museum, and Nike missile post in Los Angeles for 10 years, and is a past chairman of the Coast Defense Study Group (CDSG).

Terrance McGovern has been an avid student of fortifications for many years, with a particular interest in American coastal defenses in overseas territories. A former Chairman of the Coast Defense Study Group. Terrance lives in McClean, Virginia, with his wife and three daughters.

Chris Taylor was born in Newcastle, UK, but now lives in London. After attending art college in his home town, he graduated in 1995 from Bournemouth University with a degree in computer graphics. Since then he has worked in the graphics industry and is currently a freelance illustrator for various publishing companies. He has a keen interest in filmmaking and is currently co-producing a movie.