Heroines of the Soviet Union 1941-45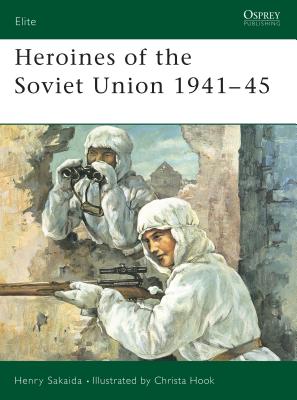 Heroines of the Soviet Union 1941-45
Osprey Publishing (UK), Paperback, 9781841765983, 64pp.
Publication Date: May 2003
* Individual store prices may vary.
Buy Now
or
Shop Local
Enter your zip code below to purchase from an indie close to you.
Description
Osprey's examination of Soviet women who fought in World War II (1939-1945). When the Great Patriotic War began, many women volunteered for the armed forces, but most of them were rejected. They were steered towards nursing or other supportive roles. Many determined women managed to enter combat by first volunteering as field medics and nurses, then simply picking up a gun during the battle, and charging boldly into the line of fire. In the area of aviation, women also contributed greatly to the war effort. In rickety biplanes, they flew bombing missions at night, without parachutes; their only protection was the darkness. This book tells the stories of the brave women that were awarded the Soviet Union's most prestigious title - Hero of the Soviet Union - for their bravery in protecting their homeland.
About the Author
KOJI TAKAKI can remember seeing B-29s and other military aircraft in the skies over Saeki City in Oita Prefecture, East Kyushu, during his primary school years. Taught to speak English when still a student, he has been an avid collector of literature on wartime Japanese military aviation since the late 1950s. Now retired after a long career in the textiles industry, Takaki is working on several book projects with Henry Sakaida. This is his first volume for Osprey.
A third generation Japanese American (Sansei), Henry Sakaida has spent much of his life researching the shadowy history of the Japanese fighter pilot. His eye for detail and exhaustive research has led to him being given access to much archive material by former aces who have remained silent since the end of the war.

Ian Castle is an experienced historian who is a member of the Napoleonic Association, the Victorian Military Society and is a consultant for the Anglo Zulu War Historical Society. Ian began writing more than ten years ago and, besides contributing numerous articles to military journals, he has written ten books, five of which are in the Osprey Campaign series The author lives in London, UK.