Luftwaffe Schlachtgruppen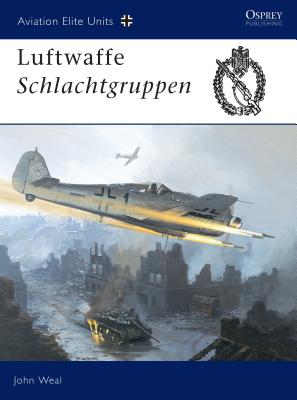 Luftwaffe Schlachtgruppen
Osprey Publishing (UK), Paperback, 9781841766089, 128pp.
Publication Date: October 22, 2003
* Individual store prices may vary.
Buy at Local Store
Enter your zip code below to purchase from an indie close to you.
or
Not Currently Available for Direct Purchase
Description
One of the most important, and yet least publicised, components of the front-line Luftwaffe was the Schlacht, or ground attack, arm. This book details the Schlacht units who were in the thick of the fighting from the first day of the war until the last. They played a vital part in the heady successes of the early Blitzkrieg campaigns and went on to perform an equally essential role in the dark hours of last ditch defence and ultimate defeat. In between, they fought in all defensive battles: on the eastern front at Stalingrad, Kursk and Berlin; in the west, by night, over Normandy, the Ardennes and the Rhine.
The color plate section of the book has profiles of the following, disperate aircraft:
HS 123A
HE 51B
Bf 109-4
Bf 109E
Bf 109E-7
HS 129B
Fw 190F-2
Fiat Cr.42
Fokker CV-E
Ju 87D
All of which were flown by this squadron. Also of note is the fact that this Ace pilot Hans-Ulrich Rudel was part of this distinguished unit.
About the Author
John Weal is Osprey's primary Luftwaffe author and artist. He possesses one of the largest private collections of original German-language literature from World War 2 and his research is based on this huge archive. Fluent in German, Weal has spent much time establishing contact with ex-members of the Luftwaffe, from General Staff Officers of the RLM to frontline aircrew. A freelance airbrush artist since the days of the monthly RAF Flying Review, he has illustrated some of the finest Luftwaffe profiles to date. He has written three previous volumes in the Combat Aircraft series. The author lives in Berkshire, UK.

A Western Australian by birth, Tony Holmes was a published aviation author by the age of twenty. Moving to England in 1988, he has worked in aviation publishing ever since. Tony has written more than 50 books and edited a further 300 in the past 25 years.