World War II Infantry Tactics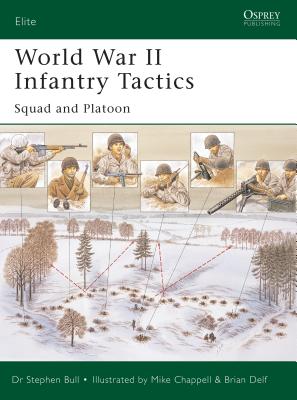 World War II Infantry Tactics
Squad and Platoon
Osprey Publishing (UK), Paperback, 9781841766621, 64pp.
Publication Date: May 25, 2004
* Individual store prices may vary.
Buy at Local Store
Enter your zip code below to purchase from an indie close to you.
or
Buy Here
Description
Osprey's study of infantry tactics of the squads and platoons of World War II (1939-1945). Despite all technological advances, final mastery of any battlefield depends upon the tight-knit group of footsoldiers trained to manoeuvre, shoot and dig in. This first of a two-part study examines the methods by which the Western infantry of World War II - the German, British and US armies - actually brought their firepower to bear. Drawing upon period training manuals for the evolving theory, and on personal memoirs for the individual practice, this first book covers the organization and tactics of the squad of ten or a dozen men, and the platoon of three or four squads. The text is illustrated with contemporary photographs and diagrams, and with colour plates bringing to life the movement of soldiers on the battlefield.
About the Author
Dr Stephen Bull is the Curator of the Museum of Lancashire in Preston, which incorporates the collections of several local regiments. Born in 1960, he graduated from the University of Wales with a BA (Hons) in history in 1981, and obtained his doctorate from University College, Swansea, with a study of English Civil War weapons. For several years from 1984 he worked at the National Army Museum, on a fortifications project and later in the Weapons Department. He has written numerous articles for specialist journals, including a number on the weapons and tactics of World War I. The author lives in Pr

Mike Chappell has been the Colts beat writer for the "Indianapolis Star "since 1989, making him one of the nation s longest-tenured writers for the same team. He was on hand for the team s first training camp, its first regular-season victory, its first Indianapolis-based playoff appearance, and the franchise s first postseason victory in a quarter-century, a 35 20 win at San Diego in 1995 that served as a springboard to the AFC title game. He chronicled the 1 15 travails of 91, three different 3 13 squads, and the 12 4 outfit in 2003 that reached the AFC championship game.

Reverend Dr. Stephen Motyer is a lecturer at the London Bible College. He has written numerous books and articles about the Bible, including Who's Who in the Bible, and was a consultant for the highly acclaimed Children's Illustrated Bible and Illustrated Family Bible, all published by DK Publishing, Inc. Brian Delf has illustrated many children's books for DK Publishing, Inc., including the best-selling Picture Atlas of the World.