Us Submarines 1941-45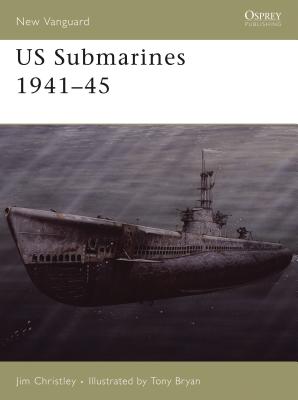 Us Submarines 1941-45
Osprey Publishing (UK), Paperback, 9781841768595, 48pp.
Publication Date: January 2006
* Individual store prices may vary.
Shop Local
Enter your zip code below to find indies closest to you.
Description
Naval warfare in the Pacific changed completely with the Japanese attack on Pearl Harbor in 1941. The strategic emphasis shifted from battleships to much more lethal, far-ranging weapons systems; one of these was the submarine. This book details the design and development, classes, weapons and equipment, tactics and operational history of the US submarine in World War II. Detailed tables, photographs, and superb color plates depict the force that had an effect far beyond its size - the submarine accounted for 55% of all Japanese shipping losses, despite suffering the highest percentage loss of any unit of the United State Armed Forces in World War II.
About the Author


Innes McCartney is an historian and nautical archaeologist, specializing in 20th-century naval vessels. He lectures widely on a number of associated subjects. A passion for shipwrecks has led to some famous discoveries, including the submarine M1 and the battlecruiser "HMS Indefatigable," His previous book, "Lost Patrols" detailed his uncovering the 121 submarines sunk in the English Channel. His own underwater photography illustrates this book. The author lives in Cornwall, UK.
Tony Bryan is a freelance illustrator of many years' experience who lives and works in Dorset. He initially qualified in Engineering and worked for a number of years in Military Research and Development, and has a keen interest in military hardware - armor, small arms, aircraft and ships. Tony has produced many illustrations for partworks, magazines and books, including a number of titles in the New Vanguard series. Tony Bryan lives in Dorset, UK.
Praise For Us Submarines 1941-45…
"This is one of the best books on the subject and while really a primer on the subject, provides enough information to be interesting and to whet one's appetite for more. It is a book that I found quite interesting and I know you will as well." -Scott Van Aken, modelingmadness.com

"Overall, this new addition to the New Vanguard line of books from Osprey Publications delivers to the reader good , clear, information about the U.S. submarines in the time frame covered... Recommended from this modelers point of view." -Mark Smith, AeroScale

"We have here a good subject and lots of information that Mr. Jim Christley was abble to condense well, showing the relevant points and even adds some curiosities without getting "off course"." -Rui Matos, Aeroscale