Kasserine Pass 1943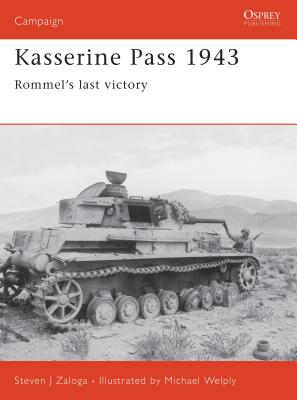 Kasserine Pass 1943
Rommel's Last Victory
Osprey Publishing (UK), Paperback, 9781841769141, 96pp.
Publication Date: May 8, 2005
* Individual store prices may vary.
Buy at Local Store
Enter your zip code below to purchase from an indie close to you.
or
Buy Here
Description
Osprey's examination of the North African campaign of November 1942-May 1943 of World War II (1939-1945), which was a baptism of fire for the US Army. After relatively straightforward landings, the US II Corps advanced into Tunisia to support operations by the British 8th Army. Rommel, worried by the prospect of an attack, decided to exploit the inexperience of the US Army and strike a blow against their overextended positions around the Kasserine Pass. However, the Germans were unable to exploit their initial success, and later attacks were bloodily repulsed. The fighting in Tunisia taught the green US Army vital combat lessons, and brought to the fore senior commanders such as Eisenhower, Patton, and Bradley.
About the Author
Steven J. Zaloga received his BA in History from Union College and his MA from Columbia University. He has worked as an analyst in the aerospace industry for over two decades, covering missile systems and the international arms trade, and has served with the Institute for Defense Analyses, a federal think tank. He is the author of numerous books on military technology and military history, with an accent on the US Army in World War II as well as Russia and the former Soviet Union.

Michael Welply was born in London in 1948. His family moved to Winnipeg, Canada in 1950. Having studied art first in Winnipeg and then in Paris, Michael began his illustrating career in 1977. He moved to central France in 1981 with his family, where he still lives. Michael has worked for many publishers in Europe and the United States, and has illustrated over 50 books, ranging from historical work to fantasy and fairy tales.