Swimming Shermans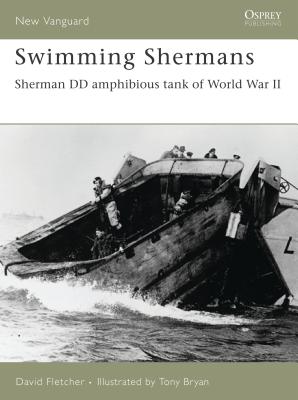 Swimming Shermans
Sherman DD Amphibious Tank of World War II
Osprey Publishing (UK), Paperback, 9781841769837, 48pp.
Publication Date: May 2006
* Individual store prices may vary.
Buy Now
or
Shop Local
Enter your zip code below to purchase from an indie close to you.
Description
The Sherman DD (Duplex Drive) tank was designed by the Allies specifically for the D-Day landings; enveloped in a waterproofed canvas screen, the tank was launched at sea from landing craft and then 'swam' slowly to shore, where the screens were deflated, allowing the tanks to operate as fighting vehicles. Exploring the development and modifications of the Sherman DD, this book discusses its many variants, including the prototype Valentine DD tank and its role as a training tank in Britain and limited operational use in Italy, and examines the successes and tragic failures on the beaches of Normandy and further into North-West Europe, including the challenge of crossing the River Rhine.
About the Author
David Fletcher was born in 1942. He has written a number of books and articles on military subjects and is currently the historian at the Tank Museum, Bovington, UK. He has spent over 40 years studying the development of British armored vehicles during the two World Wars. The author lives in Dorset, UK.

Innes McCartney is an historian and nautical archaeologist, specializing in 20th-century naval vessels. He lectures widely on a number of associated subjects. A passion for shipwrecks has led to some famous discoveries, including the submarine M1 and the battlecruiser "HMS Indefatigable," His previous book, "Lost Patrols" detailed his uncovering the 121 submarines sunk in the English Channel. His own underwater photography illustrates this book. The author lives in Cornwall, UK.
Tony Bryan is a freelance illustrator of many years' experience who lives and works in Dorset. He initially qualified in Engineering and worked for a number of years in Military Research and Development, and has a keen interest in military hardware - armor, small arms, aircraft and ships. Tony has produced many illustrations for partworks, magazines and books, including a number of titles in the New Vanguard series. Tony Bryan lives in Dorset, UK.
Praise For Swimming Shermans…
"Again the people at Osprey deserve great credit, they cover all the aspects of combat." -Alex Ness, popthought.com

"There is particularly good coverage of the mechanical aspects of the flotation and dual-drive apparatuses of the tanks. The black and white photos and Tony Bryan's original color artwork contribute toward the reader's understanding of the workings of these vehicles. Swimming Shermans is an excellent study of one of the more innovative designs in WWII armor, and a tribute to the courageous crews who manned those tanks." -Military Vehicles

"David Fletcher is a historian at the Tank Museum in Bovington, U.K. and has spent over forty years studying the development of British armoured vehicles during the two World Wars. This experience is apparent in his new study of the Sherman DD (duplex drive) amphibious tank of World War II. His direct contact with the extensive WWII armour collection at Bovington has clearly allowed him to attain a complete understanding of not only British prototypes, but American models as well..." -Dr. Aaron P Plamondon, Canadian Army Journal (Winter 2006)

"I found this book to be quite interesting as it covers the DD's very well. From a modeller's standpoint, I think that some of the photo coverage is weak, as there just aren't quite enough detail photos...the color plates are quite good, especially the center spread which shows quite well how the flotation screen sets up. I highly recommend this book for armor modellers, especially, "Shermanaholics"." -Chris Hughes, Armorama (July 2006)