We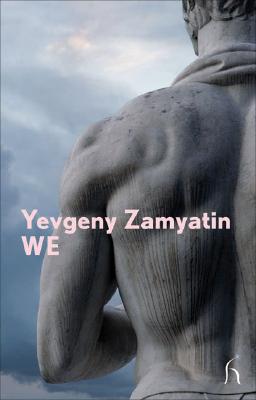 We
Hesperus Press, Paperback, 9781843914464, 218pp.
Publication Date: November 1, 2009
* Individual store prices may vary.
Buy at Local Store
Enter your zip code below to purchase from an indie close to you.
or
Not Currently Available for Direct Purchase
Description
Inside its glass dome the One State is a place of mathematical precision, a community where everythingbelongs toeveryone, and integrity, clarity, and unerring loyalty reign over all. D-503, Builder of the Integral, is an honest Cipher, ashamed of the hairy hands that link him to a barbaric ancestry. And yet he is tormented by the figure v-1, that impenetrable x, the legacy that makes him lust, imagine, that has given him a soul. Consumed by his sickness and obsessed with the mysterious I-330, he escapes outside the Wall, to where the humans are wild, the land is green, and plots to overthrow The Benefactor and return his civilization to natural chaos are rampant. Only The Operation can return order to the perfect world, and allow reason to win.
About the Author
Yevgeny Zamyatin was born in Russia in 1884. Arrested during the abortive 1905 revolution, he was exiled twice from St. Petersburg, then given amnesty in 1913. We, composed in 1920 and 1921, elicited attacks from party-line critics and writers. In 1929, the Russian Association of Proletarian Writers launched an all-out attack against him. Denied the right to publish his work, he requested permission to leave Russia, which Stalin granted in 1931. Zamyatin went to Paris, where he died in 1937.
Mirra Ginsburg is a distinguished translator of Russian and Yiddish works by such well-known authors as Mikhail Bulgakov, Isaac Babel, Isaac Bashevis Singer, and Fyodor Dostoevsky. Editor and translator of three anthologies of Soviet science fiction, she has also edited and translated A Soviet Heretic: Essays by Yevgeny Zamyatin, and History of Soviet Literature by Vera Alexandrova.
Mikhail Bulgakov (1891-1940) was a Russian author and playwright - one of the few writers allowed to publish during the Stalin era. His works include The Master and Margarita, Heart of a Dog, and the biography, Life of Mr. de Moliere.
Alan Sillitoe grew up in the slums of the industrial city of Nottingham. He began to write while in the Royal Air Force, stationed in Malaya. After the war he went to Majorca, where he became a friend of Robert Graves, who encouraged him to write Saturday Night and Sunday Morning (1958). The N.Y. Herald Tribune said: "Alan Sillitoe has given us one of the better pictures of English working-class life since Arnold Bennett dealt with the Five Towns or D. H. Lawrence with Nottingham collieries." His author's fee for the manuscript rescued him and his wife, the American poet Ruth Fainlight, from poverty and enabled him to afford the balanced diet to which he attributes his recovery from tuberculosis. Saturday Night won the Author's Club Prize for the best British novel of 1958 and was made into a superb movie in 1960. His second book, The Loneliness of the Long-Distance Runner (1959), was awarded Britain's Hawthornden Prize for 1960 and was made into an excellent film in 1962. William Posters is Sillitoe's play on words of the British "Bill Posters Will Be Prosecuted" (U.S. version---"Post No Bills"), a sentence that has haunted him. The Death of William Posters (1965) is a novel about yet another young man who must escape from the philistinism of the social milieu to which he has been born. Tree on Fire (1967), a novel with autobiographical elements, was published in Britain in 1968. Travels in Nihilon (1971) is a satirical novel about a country controlled by nihilism. Raw Material (1972) is a fictionalized memoir of his childhood and an exploration of the making of a writer.